Here Are The $850 'Crocs' You've Been Looking For
by Thea Glassman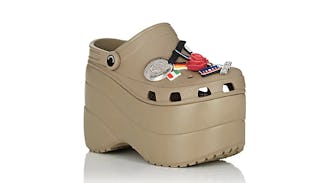 Image via Barneys
$850 clogs exist and they're…um…interesting
There's a lot you can do with $850. Among them: pay (partial) rent, buy the whole family a new wardrobe, put money down for a vacation, pay some tuition, buy groceries for, like, a long, long time. Alternatively, you can drop that whole entire wad of cash on a pair of embellished platform clogs because, I guess, YOLO?
Here's the deal with these ridiculously expensive clogs. They're Balenciaga, made out of foam, and have a 5′ inch platform. The shoes also have "shock absorption" and "maximum cushioning."
So, that's all well and good but I think we should really focus on the pins. Because these clogs are covered with an assortment of pins. A quick zoom in on the shoes reveal a rose, a few country flags, and a baby penguin. Because if you're gonna wear $850 clogs, you better be whimsical enough to rock a baby penguin on your feet.
The footwear comes in "toast" color:
And also bright, bright, BRIGHT pink:
You just know that every single one of the Spice Girls would rock the hell out of these. Except Posh Spice because she knows better.
Are you currently smirking and rolling your eyes and thinking that there is no way anyone would ever wear these? Well, I'd like to politely prove you entirely wrong. Every single size is currently sold out except for 6 and 10. Yup, you read that right.
Now, if you're currently on the fence about these crocs and looking for something slightly more understated — Balenciaga has got your back. You can buy the clogs without all the embellishments for a reduced price of $495. They come in both black and pink, have that 5′ platform, and make the same bold, bold statement. Not that I'm Team Platform Clogs or anything, but we're already in so much ridiculous pain when we walk around with heels. Why not get the height and also be very comfortable?
Your friends will only make fun of you a little (/a lot).
So, yes, this summer might just be the summer of platform clogs. That's honestly totally fine by me. We could all use some more comedy in our lives.
This article was originally published on