The Best Gear For Your Play-Doh Needs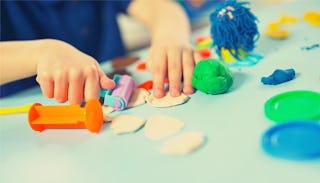 adriaticfoto / Shutterstock
Play-Doh. It's both a blessing and a curse. On the one hand, I know my kids will be engaged for a while. I can shower. I can cook. I can clean. I can watch last night's Grey's and eat chocolate chips straight from the bag without anyone bugging me while they bask in the glory of creative play — and all without the guilt of sitting them in front of a screen. On the other hand, I'm likely going to be sweeping up little dried-up balls of it off my floor for the next eight weeks. And at least one of my kids will be pooping rainbows in the very near future.
But honestly, the mess and hassle aren't that bad, and my kids love Play-Doh. We don't get it out every day, so it retains its moisture and keeps them interested. So I went out in search of some stuff to make it a little less of an ordeal and more enjoyable for my children and me.
There is nothing worse than saying "Sure. Let's get out some Play-Doh!" and finding that the little tubs we have on hand are mixed up and dried out. I like to keep a few containers of it out with a overstock in a cabinet somewhere. I can easily trade out the old, gross stuff for bright, new, and without pet hair.
It's a button you can stick wherever you keep the Play-Doh, and when you run low, you can press it and it lets Amazon know over Wi-Fi that you want to order more. You get a credit that covers the cost of the button the first time you press it, so it's basically free. If you go through Play-Doh like we do and tend to forget stuff like this on your list for the store, this is awesome.
These are a must-have for keeping the Play-Doh mess at bay. I set these out for each kid. It keeps any from getting squished into the grooves in my kitchen table. When everyone is done playing, we put the Play-Doh back in its containers, and I shake these off into the trash. No more spending half my afternoon dotting a big piece of tape all around the table to pick up the tiny scraps. Then they go in a bin with the rest of our Play-Doh stuff.
This is a great set of tools. Your kids have everything they need to cut, roll, and shape Play-Doh into whatever their hearts desire.
If you're going to use Play-Doh, you've gotta have a Fun Factory. I remember using this when I was a kid, and it kept me entertained for hours. We got one for my son a couple years ago, and it's still the first thing he goes for when we get the Play-Doh out.
A curveball! If you like the smaller containers of Play-Doh, this is a great way to store them. I especially like this as a small-space solution if you don't have room for a ton of tubs all over your table.
Play-Doh is going to be a part of your life for a little while. It just is. Might as well make it easier and more enjoyable for the whole family.
This post contains affiliate links, which means we receive a small portion of the sale if you make a purchase using this link.
This article was originally published on