Affordable Plus-Size Clothes That Are Perfect For Spring
by Team Scary Mommy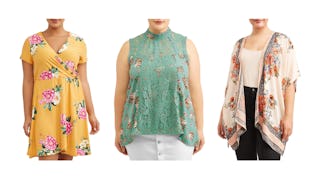 Images via Walmart
Plus-size clothes that are fun, flirty, and in your budget.
It's almost spring, which means it's time to ditch the mittens and heavy jacket and find some new, flattering clothes that make us feel like we've still got it. And we need them at affordable prices since we're moms and spend most of our money on our kids.
We plus-size ladies want clothes that hug and flow in all the right places. We deserve flattering cuts, bold colors, and fun prints. Because when we rock cute clothes, we're living our best life.
So here are some plus-size looks that are perfect for spring:
This Crochet Tunic has a shallow V-neck for coverage and a flattering A-line cut. And it's only $10!
A Flutter Sleeve Top is a must-have, and this one comes in 20 different colors. It's currently on sale for $9.95 (originally $18.99).
How adorable is this Lace Victorian Top? I'm getting one in each of the six colors. (It's only $14.99!)
This Floral Print Top has a great cut and a floral print that's good for sitting in the sun.
This Ruffle Sleeve Blouse also comes in white or light blue, has a flattering fit, and is only $17.98.
An Open Front Cardigan that comes in over 30 colors and is a great addition to any spring wardrobe.
This Kimono Top pairs perfectly with a tank and is light enough for the warmer weather.
A Flutter Sleeve Kimono is another fun look. This one comes in three different prints and has a little bit more length.
This Print Wrap Dress is another reason we can't freaking wait for spring to get here. And it's only $16.98.
This Half Sleeve Wrap Dress ties in the front, has a great fit, and we adore this print.
This V-Neck Dress is a show-stopper. V stands for Va-Va-Voluminous. Probably. It should, anyway.
A Print Knee-Length Skirt pairs with a blouse and a cute pair of shoes for a flirty spring look.
This Print Maxi Skirt is as stylish as it is comfortable, and it comes in six different floral prints.
A Print Pencil Skirt accentuates your curves and comes in over 30 different floral designs.
This A-Line Skirt comes in seven different colors and is a great way to add some brightness to your wardrobe.
You can't go wrong with a pair of comfy Jersey Leggings. And they are only $10!
Print Leggings are so fun and versatile, and everyone should own multiple pairs of them. These are also only $10!
These Super-Soft Jeggings are super comfy and I will be living in them for the foreseeable future.
Or if you prefer real jeans over jeggings, these Stretch Jeans are the perfect fit, and they come in eight different colors.
These High-Waisted Palazzo Pants are flowy, come in a variety of colors, and are another great look for spring.
So there you have it: A ton of cute items that you can mix and match to brighten up your look to get ready for some sun. And as for winter, we can't say we're sad to see it go.
We may earn fees from purchases made via links on this page and affiliated sites. All opinions are our own.
This article was originally published on