Online Retailer Shows Clothes On Multiple Size Models Side-By-Side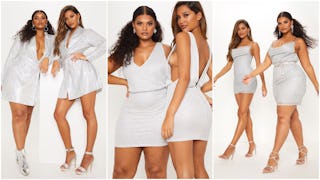 Images via Pretty Little Things
Plus size shopping would be so much easier if every retailer did this
For any shopper who isn't the size of a literal model (read: most of us), online shopping can be tricky. Since the clothes are usually only shown on literal models, it's tough to see how they might look on the variety of shapes and sizes that make up women's bodies. It's just one of many reasons plus size shopping can become frustrating, fast.
UK-based online retailer Pretty Little Things has come up with a clever way to combat this problem. For its holiday campaign, the store teamed up with Hailey Baldwin, photographing many of its looks on Baldwin and other models, as well as women of different sizes. For many of the items in the collection, the models pose side-by-side, really allowing shoppers to see how different looks work on different bodies.
For example, take this gorgeous plunge back bodycon dress. We already want one to show up under the tree this year.
Also drooling over this sparkling cowl neck dress, in large part because we can see how great it looks on multiple types of bodies.
If this cut-out sequin one-shoulder dress isn't on your Christmas list, please add it immediately.
Knowing that this backless bodycon dress looks amazing on everyone (with photo proof) should make it a no-brainer for all your fancy holiday parties.
Same goes for this sequin blazer dress. It will look amazing on your body, regardless of its shape and size, into 2019 and beyond.
Looking for something short and with tassels to celebrate the holidays or ring in the new year? PLT has that covered, and has photographic evidence that it looks great on all women.
Obviously, Twitter is here for this in a big way.
People are also taking note of the inclusion of not just plus size women, but women of color modeling almost every look in the collection.
This is such a small and simple change that any retailer can make, provided they carry their items in plus sizes (and if they don't, that's a whole other conversation we need to have with them). Here's hoping more stores will follow PLT's lead and start giving us more complete looks at what their clothes look like on many different women.
This article was originally published on