Police Caught On Video Using 'Bait Truck' Full Of Sneakers To Catch Kids Stealing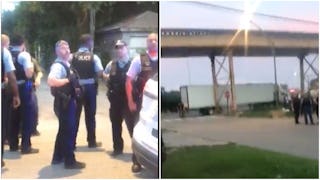 Image via Charles Mckenzie/Facebook
Police officers are facing criticism after setting up a "bait truck" in Chicago
The Chicago Police Department is dealing with community backlash after they set up a "bait truck" to catch potential thieves. Officers parked an unmarked vehicle filled with goods in the neighborhood of Englewood, and then arrested individuals who went into the truck. Their operation hasn't quite gone to plan, and resulted in plenty of anger and a powerful outreach movement to help local kids.
Two weeks ago, Englewood local Charles Mckenzie shot a video of the "bait truck" and posted it on Facebook. "The police parked a truck with boxes of Nike shoes in front of kids lifted up and when people hop in the truck the police hopping out on them smh check on your people share this," he wrote.
His video quickly went viral, with more than 600,000 views and 17,000 shares. Comments poured in from people across the internet who called the sting an unnecessary entrapment, and accused the police of purposefully baiting young people who need money.
The police department claimed that they weren't trying to target kids, but were attempting to catch the same thieves who had been breaking into a nearby rail yard.
"Norfolk Southern has the responsibility to ensure the freight we are transporting is safely delivered and does not pose a risk to the communities in which we operate," Norfolk Southern Police said in a statement. "This week's police operation was intended to directly combat such unacceptable thefts."
Three suspects were arrested during the operation, including David King, who is deaf and who communicated to officers through sign language that he went into the truck looking for food.
Meanwhile, activist Shaun King decided to take a really bad situation and make it a whole lot better.
He created an Amazon wishlist filled with shoes for kids in need, and encouraged people to give what they can. "ALL HANDS ON DECK!" King wrote in an accompanying Facebook post. "Last week the Chicago Police set up what's called a bait trap by putting a semi-truck full of tennis shoes in the hood then arresting any kids who took a pair. So we're going to help get every student in Chicago who needs shoes a pair. We're also getting school gear and backpacks too."
So far, 900 pairs of sneakers (and counting) have been donated by strangers across the country – which makes for a very heartening end to a really disturbing story.
Hopefully, all this backlash will make Chicago police rethink their methods. Several prominent community leaders have spoken out against the bait truck, including Karen Sheley, director of the ACLU Illinois' Police Practices Project, who explained officers are only creating more conflict with locals.
"Police in Chicago must focus on building trust and better relationships within the communities they serve, not engage in stunts like bait trucks," she told the Chicago Tribune. "The Chicago Police Department admits that it can't solve murders and violent crimes because communities of color don't trust the Chicago police. These stunts won't help."