Girl Rescued By Police After Using Distress Signal From TikTok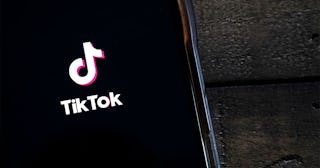 Drew Angerer/Getty
The girl was reported missing by her parents two days earlier
Sixty-one-year-old James Herbert Brick was arrested in Kentucky after his passenger, an underage girl, signaled another car using a distress call she learned from TikTok earlier this year after it started trending as a way to help protect against domestic violence.
The 16-year-old from Asheville, North Carolina, was reported missing by her parents on Tuesday of last week, according to the Laurel County Sheriff's Office in Kentucky. On Thursday, a motorist in Kentucky saw her use the sign started by the Canadian Women's Foundation called "Signal for Help." It spread across TikTok in 2020 after the rise in domestic violence brought on by the pandemic to signal others in a non-verbal way that they needed help, like on a Zoom work call.
"The complainant was behind the vehicle and noticed a female passenger in the vehicle making hand gestures that are known on the social media platform 'Tik Tok' to represent violence at home — I need help — domestic violence," read the statement posted by police. To make the sign, tuck your thumb into your open palm then fold your other four fingers over it, trapping the thumb.
A motorist saw the girl making the hand gesture and called 911, saying that she was in a car traveling southbound on I-75 using the signal and that an older man was driving the car. The caller followed the car and continued providing information to the dispatcher until a police car finally caught up and pulled them over. It was then police learned the girl had been reported missing from in North Carolina two days earlier.
According to the report, the girl told police she and the man had driven through North Carolina, Tennessee, Kentucky, and Ohio, where she said the man had relatives. When his family realized the girl was underage, they left Ohio and headed back through Kentucky. That's when she was seen trying to get the attention of other motorists.
https://www.tiktok.com/@nichellelaus/video/6989417279838555398?is_from_webapp=1&sender_device=pc&web_id7028246406642025990
"We don't know how long coming down the interstate from Ohio that she had been doing this to other motorists hoping that they would notice that she was in distress, but finally someone did recognize," Laurel County Sheriff's Deputy Gilbert Acciardo said.
https://www.tiktok.com/@fabulousmag/video/6938764383233363206
The deputies also discovered a phone in Brick's possession that allegedly showed a juvenile female in a sexual manner. The 61-year-old was arrested and charged with first-degree unlawful imprisonment and "possession of matter sex performance by a minor over the age of 12 but under age 18," according to the police report.