Police Officer Buys A Week's Worth Of Groceries For Mom Who Stole To Feed Her Family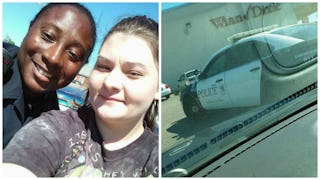 Image via Love What Really Matters/Facebook
Officer's act of kindness goes beyond groceries
A struggling mom arrested for stealing food just got a gift that's even bigger than sustenance: she received compassion. It's a hot commodity these days and in seemingly short supply. But a police officer in Alabama has an abundance of it and is inspiring others to have some too.
Officer Katrina Lewis Culbreath of Dothan Police Department upholds the law every day. This week she reached out to a mother who broke it.
Sheena Davenport was in court facing a shoplifting charge from a year ago. "Today I went to court for shoplifting food from Wal-Mart almost a year ago. Logan and I were struggling like no other and didn't know what to do," she writes on the Love What Matters Facebook page.
Thankfully, Officer Culbreath saw beyond the law breaking and got to the heart of the matter. She instructed the mom to meet her outside after her court paperwork was finished and follow her.
"We ended up at Winn-Dixie grocery store," writes Davenport. "She told me to grab a buggy and lets go shopping."
The officer bought $139 worth of food for her and her family.
"After I told her she didn't have to do it she started telling me her struggle and how she made it through," the mom says.
She adds, "This world may be jacked up y'all, but there are still people out there who make a difference and when my time comes I will pay it forward."
This is what it's all about. Helping each other in our times of need with no judgement or shame.
Food insecurity is a reality for many families around the country and the numbers are staggering. According to Feeding America, a website that tracks poverty and food security data in the U.S., about 15 million families are food insecure. That means a large chunk of our population doesn't have access to nutritious food or can't afford it. Even more alarming, households with children reported food insecurity at a significantly higher rate than those without children, 17 percent compared to 11 percent.
Those struggling financially are deserving of understanding and compassion. Helping them can be the difference between eating and not eating for the day. Helping can also make a difference that goes beyond the plate and hits the heart.
This article was originally published on