Police Officer Fired For Unlawfully Detaining Daughter's Boyfriend
by Thea Glassman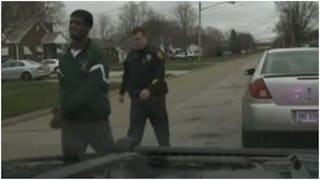 Image via Twitter
A police officer was fired after detaining his daughter's boyfriend with no cause
An Ohio police officer greatly abused his power by pulling over his daughter's boyfriend at a traffic stop for no reason at all. He then proceeded to threaten the 18-year-old with jail time. The interaction was caught on a dash cam and, thankfully, the officer has already faced some swift consequences.
Makai Coleman and his girlfriend Katlyn Kovach were driving in a car together with two other teenagers when John Kovach Jr. pulled them over. He told Coleman to get out of the vehicle because he was "going to jail." When Coleman asked why, the officer responded: "Have a seat in my car, we'll make shit up as we go."
Things continued to unravel from there. The mother of two of the teens in the car, Gloria Morales, spotted the altercation and came out of her house to see what was going on. According to The Chronicle, Kovach Jr. proceeded to threaten Morales with a $300 ticket. When Morales said she was going to call 911, Kovach Jr. said he'd arrest her.
Are you completely, completely disgusted already? There's even more.
The officer forced his daughter into his police car, despite the fact that she protested that there was no cause. During this whole mess of events, Kovach Jr. received a call about a road rage incident. He chose to completely ignore the call, and drove off with his daughter — who, again, did nothing illegal — instead.
Kovach Jr. was fired from his job for grossly abusing his power. His (many) violations include: pulling over a car without cause, taking Coleman into custody, saying he would make up false charges, and threatening to arrest Morales.
Unfortunately, Kovach Jr. is appealing his termination and will present his case to an arbitrator in September. It is insane to think that there is any chance that Kovach Jr. could ever, ever get his job back. If he does happen to win his case, hopefully the Lorain Police Department will get plenty of calls explaining why this man should literally never have the right to wear a badge again.
"These actions are not acceptable for members of our Police Department and we felt it warranted immediate dismissal," Safety-Service Director Dan Given said, per The Chronicle. Police Chief Cel Rivera added that the disgraced officer's actions were "contrary to the mission, values, and policies of the Lorain Police Department."