Police Drag Protesters With Disabilities Out Of Wheelchairs During Health Care Protests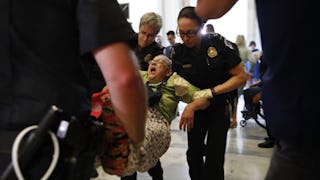 Image via Facebook
There's video of officers dragging people from their wheelchairs and arresting them
In yet another disturbing chapter of the Trump presidency, Capitol Hill police forcibly removed protesters from their wheelchairs who were demonstrating outside Senate Majority Leader Mitch McConnell's office on the day Republicans released their up-until-now secret healthcare plan.
Forcibly removing people from their wheelchairs. This is America now.
Disability rights organization ADAPT staged a "die-in" outside Rep. McConnell's office to protest Trumpcare, legislation that would mean as much as $800 billion in cuts to Medicaid, according to The Hill.
U.S. Capitol Police spokeswoman Eva Malecki tells The Washington Post that officers warned the protesters to "cease their unlawful activities" or risk arrest. Those who didn't comply with the officers' warnings were arrested and charged with crowding and obstructing, even if that meant being pulled from their wheelchairs and carried out against their will.
The Independent reports that approximately 60 protesters, many in wheelchairs, assembled outside the Republican senator's office at 11 am yesterday to let him know their feelings on the potentially devastating bill. Some got up out of their wheelchairs to lie on the Senator's floor in an effort to dramatize the very real consequences of Trumpcare, should it pass.
"We're hanging out there like a ripe cherry to be plucked," says Mike Oxford, one of the organizers of the protest. "Not only will people lose their freedom, but people will die if they do this." He explains, "We're protesting the American Health Care act cutting hundreds of billions out of Medicaid to gives tax breaks to the wealthiest. Our members actually use Medicaid to be able to work in the community; to be free and independent; to live on this planet."
Capitol police were filmed removing protestors, some straight from their wheelchairs, in an effort to break up the demonstration.
ADAPT organizer Bruce Darling released a statement before the protests saying, "The American Health Care Act caps and significantly cuts Medicaid which will greatly reduce access to medical care and home and community based services for elderly and disabled Americans who will either die or be forced into institutions. Our lives and liberty shouldn't be stolen to give a tax break to the wealthy. That's truly un-American."
No matter what side of the fence your political leanings, this should make you ill. This is not our country. Or at least it shouldn't be.