Police Shut Down Little Girls' Lemonade Stand Because They Don't Have A 'Permit'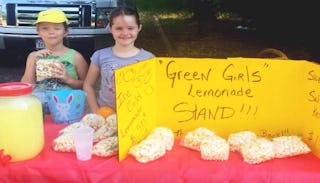 On Monday, two little girls in Texas were trying to raise some money to buy tickets to Splash Kingdom for a Father's Day present, so they did what little entrepreneurs have been doing for years — set up a lemonade stand. The girls were shut down by police due to "lack of permit."
Officers approached the stand and told the girls' mother, Sandi Evans, that she'd need to obtain a permit for her daughters to sell lemonade. She reacts as you imagine she would — absolutely confused that she needs to visit City Hall to obtain a permit for something like that. The exchange is cordial.
A friend of the family actually runs down to City Hall to get the permit. The city waives the $150 fee, but tells the friend that the family will need to contact the health department to get approval. According to health code law, you need to get a permit if you're selling anything that needs to be maintained at a certain temperature. KLTV News clarifies, "Before the girls can legally sell the lemonade, they'll technically need a health department inspection."
Kids have been constructing make-shift lemonade stands for years. It's almost a rite of passage. It's a small lesson in what it means to work for something that you want to buy. How many of us have purchased cups of lemonade we totally didn't want because we couldn't resist the idea of kids putting a stand together, making lemonade, and selling it so they could earn some money?
The officers did nothing wrong — they were just going by the book. But why? Why would officers bother to put a halt to two little girls selling lemonade? There had to be a call from a complaining neighbor, right? City hall waived the fee, which was nice. But the idea that a family needs to pay for a $150 permit and schedule a visit with the health department so their kid can set up a lemonade stand is beyond ridiculous.
This Saturday, the girls will set up a stand and give away free lemonade for "tips." It's the only way to get around the law.
Oh, my.
Related post: 10 Creative Ways To Get Your Kids Outside This Summer
This article was originally published on