Two Children Walk Unattended; Neighbors Lose Their Minds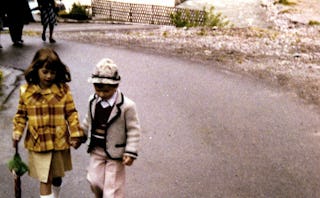 On December 20, Danielle and Alexander Meitiv were alarmed to find police at their door with their two children, ages 10 and 6. The Meitivs weren't shaken because their kids had somehow slipped the shackles of adult supervision and been found in a dangerous situation. No, they were upset because they had given their children permission to walk home alone from a local park, but the police—alerted by local residents—had stopped the kids and brought them home.
What do you think? Take the Cafe poll here. We'll post the results shortly. (Read the rest of this article below.)
After careful consideration, the Meitivs decided to let their children walk unattended from a local park in their Silver Spring, Maryland, neighborhood. The trip was about a mile, through suburban streets the kids knew well. The Washington Post described Alexander Meitiv's exchange with police at his home that day as "tense." The Meitivs have since undergone intense scrutiny by Montgomery County Child Protective Services, including multiple home visits and what the Meitivs describe as threats that their children will be removed from their home. The kids were even interviewed in school without their parents' knowledge.
Other parents around the country have had similar experiences. Kari Anne Roy, a mom in Texas, wrote about the day she let her son play outside their house alone and a neighbor called the police. Kari Anne and her family have also undergone a lengthy, difficult and often humiliating process of proving their qualifications as parents.
When I was 7 years old in Los Angeles, I used to leave my apartment carrying a giant basket of laundry, walk down to the sidewalk, across the carport, and down the side of the building to the laundry room, which was just a few yards from an alley. Then I would put quarters in the machine, start the wash, go back to my house and hang out with my 10-year-old brother—because our mother wasn't home. She was at work. I followed the same path when it was time to put the clothes in the dryer and again when they were done. When my mother got home at night, our laundry was clean, and my brother and I often had dinner ready.
Now I have an 8-year-old son and a 5-year-old daughter, and I would not consider letting my older child do the laundry outside the house or walk home alone. This is not because I do or don't think 8 is too young; it's because my child isn't ready. And even if he were, I'm not sure I'd be willing to endure the looks and furrowed brows of our neighbors. But here's the thing: I respect other parents' assessments of their own children's readiness to handle responsibility. My mom knew we could handle it, and, as a single mom, she didn't have much choice. But she had a secret weapon: our neighbors. They looked out for us. They said hi. They knew our names. They saw us out their windows and kept an ear on us as we walked by.
Maybe the real question for parents like the Meitivs—but more important, for the people who called the police—isn't whether or not children are safer today than they were 10 or 20 or even 30 years ago, but whether or not "It takes a village to raise a child" has become "It takes a village to judge a parent and cover your own ass when you see something you decide isn't 'safe.'"
Maybe, instead of being on high alert for children at risk because their parents are "neglectful," we should stick our heads out our front doors and simply say hi. That way the kids know there are eyes on them, and anyone who may or may not be planning to do them harm knows it too. Maybe if we weren't so quick to lay blame and bring down punishment upon others, we could look out for our neighbors and friends, and actually make the world safer for two kids who just want to walk home from the park.
This article was originally published on