British Politician's Girlfriend Sent Racist Texts About Meghan Markle
by Jerriann Sullivan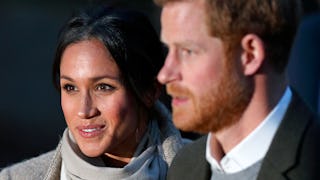 Image via Max Mumby/Indigo/Getty Images
Henry Bolton's girlfriend Jo Marney sent racist messages about Prince Harry's fiancée
A British politician is facing calls for his resignation after racist texts his girlfriend sent about Meghan Markle surfaced. Henry Bolton, 54, is a leader in the UK Independence Party political party. His girlfriend, 25-year-old Jo Marney, is a model.
In November, news broke that Prince Harry and Meghan Markle were engaged and will marry this spring. Markle, who was born in Los Angeles, is best known for her role as Rachel Zane on the show Suits. Apparently, Bolton's girlfriend isn't a fan of the famous actress. She allegedly sent a series of racist texts to a friend, the Daily Mail reported. Her storm of hate started with texts saying she wouldn't have sex with a "negro" because they're "ugly."
Marney, who has since apologized for the texts, went on to say that Markle is a "scrubber," which is British slang for a promiscuous woman. She also called Harry's fiancée a "gender equality t***" who is "obsessed with race" and a "dumb little commoner." She also sent texts that said Markle has a "tiny brain" and that "her seed" will "taint our Royal Family." Marney also wrote that Markle is "a dumb little 'actress' that no one has heard of." When she typed "this is Britain, not Africa," her friend replied by calling her a racist.
Marney then defended her very racist texts by saying that she's not a racist. "Lol so what," she wrote. "Not wanting other races and cultures to invade your own culture doesn't mean I hate their race. Just means I don't want their cultures invading mine." For the record, two adults getting married is a wedding, not an invasion. Marney should brush up on Britain's history if she wants to learn about actual invasions. The model went on to reference other races in general and said, "pushing their way to the top slowly slowly. Next will be a Muslim PM. And a black king."
The UKIP political party suspended Marney when it learned of her racist texts and launched an official investigation. "UKIP does not, has not and never will condone racism," said UKIP's chairman Paul Oakden. Other British politicians called for her boyfriend to resign over the weekend. He was previously pushed to resign when news broke that he left his wife (and the mother of his two children) for Marney.
"I apologise unreservedly for the shocking language I used. The opinions I expressed were deliberately exaggerated in order to make a point and have, to an extent, been taken out of context. Yet I fully recognise the offence they have caused," Marney said in statement after the texts were made public. "No offence was intended and, again, I apologise unreservedly for any such offence or hurt that my messages have caused to members of the public, members of Ukip my friends, family and loved ones. I have disappointed them all and let myself down. I cannot sufficiently express my regret and sadness at having done so."
On Monday, Bolton said he ended the relationship after he learned of the racist comments, the BBC reported. He said their relationship was "obviously quite incompatible" with his role in the UKIP political party, but that he had no intention of quitting his job.
This article was originally published on