Polly Pocket Is Relaunching Their Classic 90's Toys
by Jerriann Sullivan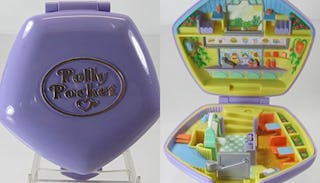 Image via Amazon
New pockets will be available this summer
As we continue to relaunch all the best things from the 90s (does anything beat 90s food, fashion or music?!) some genius decided to take on a toy that should've never left us in the first place: Polly Pocket. That's right, this summer you can once again buy the beloved compact toys.
If for some bizarre reason you don't already know this, Polly Pockets are tiny toy worlds crammed into a small case. They come with equally small dolls – Polly and her friends – who fit into the case that closes up and can be easily transported anywhere.
https://www.instagram.com/p/Bdn_44kDqv2/?taken-by=vintagepollypocketlife
They came in seemingly endless options: beach, home, garden, amusement parks, castles etc., and spurred hours of imagination time for kiddos. More than 10 million pockets were sold before the line was discontinued, Buzzfeed reported.
They were always a huge hit at birthday parties because kids know dope toys. I remember the ohs and awes when one was unwrapped. You could feel your friends taking note: "Jennifer gives Polly Pockets. Tell mom she gets a birthday invite."
You could play with a Pocket on your own or swap with your friends and play with theirs. Due to their compact size and shape, it was a perfect toy for parents, too. Pull out a Polly Pocket and all of a sudden hanging out the DMV with your kid isn't the absolute worst.
https://www.instagram.com/p/Be6z_lrBb5s/
If you think we're exaggerating the love kids had for Polly Pockets consider this: an Etsy shop that sells vintage PPs has more than 15,000 followers on Instagram. And a vintage Polly Pocket Fairy Light Wonderland recently sold for nearly $500 on eBay.
The original creator, British company Bluebird Toys, made 350 Polly Pocket sets between 1989 and 1998 before they were sold to Mattel. They gave the brand a makeover that never really took off. But with the relaunch, we should expect to see Polly Pockets that closely resemble the originals. According to Buzzfeed, they'll be hitting shelves this June.
This article was originally published on