This Awesome Pool Float Allows Two Kids To Swim At The Same Time
by Cassandra Stone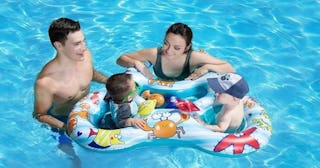 Walmart
Two kids contained and having fun in one raft? YES PLEASE
When you're a parent, swimming in a pool with small children is anything but relaxing. You've got to have eyes all over the place, making sure everyone is accounted for. This awesome pool float helps keep the kids entertained and gives you some peace of mind — because it allows two kids to swim, contained in the float, at the same time.
There's even a spot for mom or dad! Your little ones can sit in each of their designated spots, and the carved-out spot for the pusher of the float to stay right there with them.
This cute as heck pool float is the perfect summer solution if you've got twins or a toddler and a baby. For just $37 at Walmart, you've purchased yourself some summertime fun for everyone. Coming up with summer activities that keep not one, but two children entertained can be a challenge. For some reason, kids and pools go together like bread and butter — most of them never want to get out once they've become used to the water.
This float means they can stay right where you can see them (for as long as they allow you to contain them, anyway) and go for a little cruise around the pool at the same time. The Small pouch in the middle is perfect for storing squirt guns or even some snacks to munch on. Four inflatable sea creature friends are included and detachable – a sure way to keep everyone happy and entertained while getting used to the water.
The float is recommended for children ages 8 to 24 months, with a weight capacity of up to 40 pounds per swimmer. Mom maintains command of the float, the kids can get acclimated to the water while kicking and splashing and snacking — it's a win/win.
Now if you're looking for a little summertime fun for yourself, here's an awesome option: a sloth pool float. Because if you're a parent, you probably think of the sloth as a kindred spirit.
When the kids are down for a nap (and after all that swimming, they're bound to be tired — fingers crossed), crank up the volume on that baby monitor and enjoy some solo swim time for yourself. What better way to enjoy it than with this reclining sloth float? It's oversized, it has a built-in cup holder, and it literally hugs you while you're on it. YES. PLEASE. This one is also available at Walmart, for just under $30.
When it comes to how you want to spend your time in the pool this summer, both of these options provide joy (albeit for different reasons). Get your lungs ready to blow and enjoy.