Mom Shares Terrifying Warning About Pool Noodle Dry Drowning Risk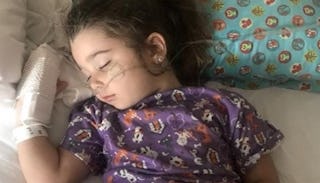 Image via Lacey Grace
The 4-year-old didn't exhibit any 'dry drowning' symptoms until days after the incident
One mom is sharing the heart-wrenching reality of her daughter's unfortunate accident that led to her hospitalization for "dry drowning." Four-year-old Elianna Grace was recently playing in her grandparents' pool when an innocent mishap during a pool noodle game had Elianna's mom rushing her to the ER days later.
Lacey Grace recounted her daughter's incident and the symptoms that took days to appear. "If I can even help save one child, this is worth it for me," she says.
Grace explains that when Elianna was playing with the pool noodle, she was blowing through one end — something we've all witnessed every kid ever doing — at the same time someone was blowing through the other end by "freak accident." Elianna inhaled water, but threw up immediately and was back to her typical self in no time.
"The next day, even, she was fine," Grace writes. "Come Monday she developed a fever. Kids get fevers, this is normal. I didn't think much. Tuesday she slept most of the day but still overall looked fine. Sent her to school Wednesday and got a call in the afternoon that her fever was back."
She said she kept "replaying that pool scene" in her head, and recalled reading a story about a boy in Texas who passed away after inhaling pool water because he didn't immediately display any serious symptoms. So she immediately took Elianna to urgent care, and the doctor there urged them to get to the emergency room as soon as possible.
"Her heart rate was crazy high, her oxygen was low, and her skin was turning purple which suggested chemical infection," Grace says. "We went to the nearest ER where they did a chest X-ray and showed inflammation and infection caused by pool chemicals." Elianna was transferred by ambulance to a larger hospital where they could monitor her continuously.
"The dangerous part is that at some point — either going down or when she vomited back up — the water got inhaled into her lungs," she tells Scary Mommy.
Elianna was diagnosed with aspiration pneumonia, chemical pneumonitis, and perihilar edema. She's currently relying on oxygen to breathe and is undergoing antibiotic treatments. "At least two doctors now have told us 'thank God you got her here when you did,'" Grace says.
She encourages all parents to immediately seek help if your child inhales water and seems even slightly off from their usual selves — an important and timely reminder as we're approaching summer.
"I wonder if I would have taken her Monday, would she be better off? And I wonder if I waited longer what would have happened. It's so scary."
In the meantime, the Grace family is fervently hoping the antibiotics work quickly and effectively so her lungs can manage to get rid of the pool chemicals and she's able to pass a chest X-ray. If you wish to help Elianna and her family as they incur unexpected expenses throughout her hospitalization, you can donate directly to a GoFundMe set up in their name.
"We don't know how long the road will be but I thank my lucky stars that I read that article of the little boy," Grace writes. "I will find that article and write that Dad a letter, I promise you. I would have never taken her to the urgent care without that and God only knows how this would have ended."
This article was originally published on