Aw, Sh*t! Poop-Themed Toys Are Actually Trendy Now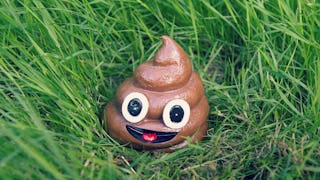 Fernando Trabanco Fotografia/Getty Images
No mom-to-be says, "Ah yes! The chance to be elbow-deep in excrement for the next decade!"
But that's pretty much how it happens: from the blowout diapers to the endless ass-wiping assists to the turds that older kids like to leave chillin' in the bowl, parents everywhere are bombarded with shit – sometimes literally – right from the jump.
The good (-ish?) news is that you get used to it. One day you're suppressing a gag as you change one of those tiny newborn diapers, and the next you're expertly chiseling spackled-on crap off the front of the closet door and reminiscing about how easy those little chocolate-pudding baby poops really were. You have officially become a poop-hardened veteran, the salty old sea captain of all things shit-related, the grizzled prospector of poo.
This comes in handy, because we've seen the next wave of toy craze, and it's brown. Last year's holiday sales brought a surprise hit – a dark horse, if you will: poop-themed toys. So for this year's holiday season, manufacturers are straining to squeeze out as many number twos as they can, and they'll be plopping onto store shelves faster than you can say "Ewwww."
Toys involving turds were the darlings of the New York Toy Fair, the world's biggest toy show and the barometer of what will be popular (eh, poop-ular?) next. And hands-down (er, pants-down?), treasures from the toilet reigned supreme. Toy manufacturing giants Mattel and Hasbro both dipped into the porcelain throne for inspiration when making their newest games.
In Mattel's Flush N Frenzy, players attempt to plunge a plastic poo from a toilet. And then there's, Hasbro's Don't Step In It, wherein players form their own piles of poop (from modeling compound, although I can see this going very wrong) and put them on a mat, then avoid stepping on them. This is the kind of stuff parents do every day, only we do it with real poop because we're hardcore. Or maybe just unfortunate.
From fully fling-able foam poop balls to collectible characters called Poopeez, which come with toilet paper roll containers and colorful backstories from their homeland of — get this — Kerplopolis (I mean, where else?!), it's clear that we can expect a pretty shitty trend to hit the shelves.
There have always been poop toys, like the fake dog doo gathering dust on every shelf of gag gifts, but it's like turds got a PR makeover and are now trendy. Poop is the new "it girl" of the toy world. Poop is the new black … uh, the new brown. #2 is now #1.
Which means parents can look forward to being surrounded not only by literal feces, but by a poo-nami of playthings that pay homage to sewage.
As if we didn't already buy our kids a shit-ton of crap.