Customer Pulls Gun After Texas Popeyes Runs Out Of Chicken Sandwiches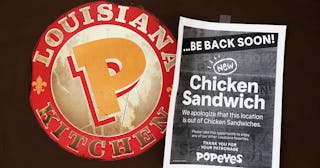 Boston Globe/Getty
The group became angry when the employee in the Popeyes drive-thru window alerted them that they were sold out of chicken sandwiches
In Houston, Texas a group of people rushed towards the door of a Popeyes with a gun out when they were told the chain restaurant was sold out of the famous chicken sandwiches. Houston police were called to the scene just after 9 p.m. on Monday evening.
Fortunately, no one was injured. Still, the occurrence is one of many gun-related incidents over the past month in the state where four of the 10 deadliest mass shootings in US history have happened. The El Paso shooting that happened in a Walmart and left 22 dead took place on August 3rd. And just days ago, another mass shooting occurred in Odessa, killing seven and leaving 21 injured.
The group consisted of two women, three men and a baby. They were in the drive-thru when they were told that the store was, in fact, sold out of chicken sandwiches. Signs were posted saying the same, employees told ABC Houston station KTRK. But that wasn't a good enough answer for the customers, who became enraged at the news. One of them had a gun, police said, and they rushed at the door. Luckily, a quick-thinking employee was able to get to the door and lock them out before they got inside.
"It was more of an aggravated assault because he was displaying a weapon and threatened employees," Houston Police Lt. Larry Crowson told KTRK. The baby was reportedly left inside the vehicle while the adults tried to enter the restaurant. Police haven't yet found the group but they have a description of the man with the gun. The group was driving a blue SUV.
It's no secret that people have been craving Popeyes chicken sandwiches and that they are widely sold out, to the greater public's distress. But the hunger is becoming problematic. Prior to this event, another man said he was suing the restaurant chain for "false advertising" because they were sold out. But this latest sandwich-induced rage is definitely the most frightening.
Meanwhile, it seems like Popeyes is trying to make it known that they are in fact, sold out.
It also seems they are trying to find creative ways to avoid more encounters like this one by sharing that you can simply use the Popeyes app to be alerted to when the sandwiches will be restocked.
While that's one way to avoid any future incidents at Popeyes restaurants, gun violence as a whole isn't going away until gun control laws make it harder for anyone who gets enraged about just about anything to get their hands on a gun. Unfortunately, for the people of Texas, new laws just did the exact opposite. A series of new gun measures just went into effect in the state that will loosen gun restrictions.
This article was originally published on