Popeye's Has TSA-Approved 'Emotional Support Chicken' For Your Holiday Travel
by Valerie Williams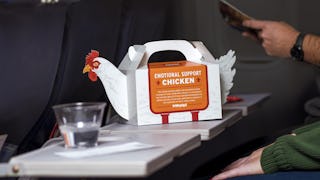 Image via Popeyes
Popeyes is offering travelers at the airport the chance to have their very own "Emotional Support Chicken"
Traveling during the holidays is no picnic — but Popeyes is trying to offset the stress a little bit by offering travelers the chance to cart an Emotional Support Chicken onto their flight.
The fast food chain is selling the chicken, (which is cooked in case that wasn't clear), at their Philadelphia International Airport location, and the meal is in a handy TSA-approved, chicken-shaped box.
"There is no doubt the holiday season is one of the busiest and most stressful travel times of the year. The airports are crowded, the delays are frustrating, and travelers are stressed about getting from point A to point B with gifts in hand. This year, POPEYES® is launching 'Emotional Support Chicken' to provide a good-hearted laugh most need to get through stressful holiday air travel," the company said in a statement.
Starting today, travelers at the airport, a major international hub, will be able to grab their chicken in the special TSA-friendly packaging to take with them onboard. All other reasons aside, this is a smart move due to the usually sucky food offerings during flights.
The box, which is shaped like a literal pre-cooked and still alive chicken, reads "This chicken provides comfort and nourishment during stressful air travel. Unlike other chicken, it is marinated in real Louisiana spices for 12 hours and must be permitted to fly without restriction. Do not leave unattended, as Popeyes is not responsible for lost or stolen chicken."
Popeyes could possibly be seen as making light of emotional support animals with their new item and considering how many people seem to joke about it (and how many don't take the very real need seriously and use the claim to cart around animals that serve no such purpose) it's a bit of a risk for the chain to go there. But they acknowledge the controversy in their press release.
"Emotional support animals provide comfort and companionship, especially during a highly stressful time like air travel. However, according to recent headlines, some travelers are pushing the envelope with the types of animals they try to bring on flights and classify as 'emotional support animals,' including the likes of peacocks, squirrels and tarantulas," they said. "Knowing this, Popeyes decided to launch its new 'Emotional Support Chicken' to bring holiday travelers some humor to what is one of the most stressful places to be during the holidays – the airport."
"We know holiday travel can be frustrating, and there's no better way to ease stress than with a box of delicious POPEYES® fried chicken and a good laugh," said Hope Diaz, CMO of Popeyes. "We appreciate how comforting emotional support animals are and wanted to create our own version. The good news is that our emotional support chicken is permitted to fly without any restrictions – one less worry for busy travelers!"
If you're interested and coming through Philadelphia Airport any time soon, your order can be placed in the container for a three-piece tenders combo while supplies last from Popeyes Louisiana Kitchen in Terminal C.