Teen Takes Advantage Of Long Lines At Popeyes To Register People To Vote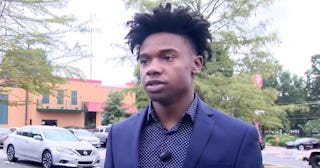 WCNC
This teen turned Popeyes into the place to get a chicken sandwich and help make the world a better place
While the debate is still raging over which fast food joint has the best chicken sandwich on offer, Popeyes is continuing to see long lines as people try to get their hands on its brand-new sandwich, which, if the rumors are true, rivals Chick Fil A for pure deliciousness. It seems like everyone has spent some significant time standing in a line at Popeyes lately as the sandwich sells out at locations all over the country. And while most people would complain about having to stand in a long line that may or may not have a sandwich at the end of it, a teen in Charlotte, North Carolina just saw an opportunity.
Seventeen-year-old high school senior David Ledbetter headed to his local Popeyes over the weekend where he could engage directly with the people waiting in that long line for one very important goal: To educate them about an upcoming local election and get them registered to vote.
Ledbetter is a volunteer for Stephanie Sneed, who's running for a seat on the local school board. The school board election isn't until November, but Charlotte has a Congressional special election coming up on Sept. 10, and Sneed and Ledbetter noticed numbers for early voting turnout were painfully low. So they decided to do something about it. At Popeyes, they said they were able to chat with "dozens" of people from their community.
https://www.instagram.com/p/B1j-ZISpEIv/
"It felt good to do a service to the community, to engage them in a political way," Ledbetter told HuffPost. "I think it's very important because that's the way to exercise your opinion, especially those who want to improve the local community, where decisions made impact the people directly. I have a passion for increasing young people's involvement. The youth is the future, and I believe we should amend some of these political views and subjects and aid the youth in their upcoming years."
What's even better is that Ledbetter said the response at Popeyes was overwhelmingly positive. People wanted to talk to him, and most of them wanted to get involved or get registered to vote.
https://www.instagram.com/p/B1pMfu8ptAK/
"There were a few individuals who weren't interested in voting," he said. "But overall there were not negative reactions. Usually it was individuals who wanted to vote and who we managed to register."
Voter turnout tends to be low in the U.S. compared to other democratic nations, and that's especially true for smaller, local elections that don't involve voting for a presidential candidate. But with kids like Ledbetter leading the way, we can't help but think the future might be a little brighter for this country.
This article was originally published on