There's A PopSockets Koozie For Starbucks Cups So Now Your Life Is Complete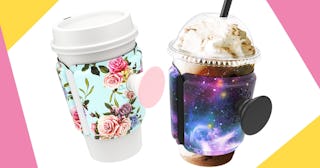 Pop Sockets
These PopThirst grips are the stuff of coffee lover's dreams
If you use PopSockets because the size of smartphones just keeps getting bigger and bigger and our hands, well, stay the same, you know how useful they can be. Besides adding some general flair to the device game, they really do help keep a handle on things and make holding phones much easier (especially when we have 87 other things in our hands at the same time). What if I told you there were PopSockets available for the other necessity in our lives — and by that I mean coffee.
PopThirst, an extension of the brand PopSockets, is making cup sleeve holders are officially here to make our lives so much easier. We all need to be caffeinated, because life, and now we can do it in style. Each set includes an integrated (and swappable!) PopGrip so we can keep beverages in hand 24×7. According to the site, each one is designed with a non-slip foam material that prevents hand slippage, especially on cold winter days. Once you're done, the design collapses flat for "no-fuss pocketability and storage."
Love iced lattes no matter the temp? No problem. The koozie part of the package also assists in keeping cold beverages cold, and if coffee isn't your thing, there are versions for soda cans (or beer/wine cans depending on the time of day), too. The patterns and PopSockets are also interchangeable, making for a ton of fun color options depending on the day of the week and your general mood.
But wait, there's more.
When you first go to their site (and if you're comfortable giving them your email address), you can "scratch off" a savings amount and use it towards your first purchase, which is fun. All the koozie/PopSockets sets are $15 and come with a handy little spot for you to rest your thumb and get a better grip on your drink, so you don't walk around the rest of the day with a coffee stain on your shirt like some of us (cough).
The PopThirst Can Holders and Cup Sleeves fit around most average-size cans, pint glasses, and to-go coffee cups, so the choice is really up to you. Just look at all the adorable patterns — floral, neutral, buffalo plaid, leopard print (rawr), and more.
The new PopThirst line is here right in time for tailgating season, the holidays, your kid's choir concerts, and any other event where you need a strong beverage on hand to make the event that much more enjoyable. It's also a perfect stocking stuffer for the PopSocket lovers in your lives who would love to decorate their fav Starbucks drink in the New Year.