In The Face of Hate, Give It Up For Love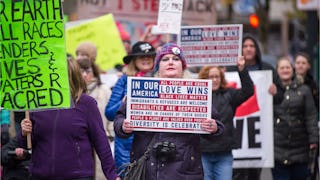 Shutterstock
Give it up for love.
How do we do that? How can we possibly do that, given the terrible serpent of a line running from the top of Micah Fletcher's jaw down to the middle of his neck? Or the wife and four children left to grieve Rick Best? Or the golden laurel on Taliesin Myrddin Namkai-Meche's graduation cap, celebrating the hours of learning and labor devoted to his college thesis?
How do we give it up for love when one month ago, hate took away so much in a matter of minutes?
We do it because at a vigil after the horrific May 26 attack here in Portland, Oregon, Asha Deliverance urged us to do it. Asha Deliverance, Taliesin's mother. Asha Deliverance who told the Ashland Daily Tidings, her hometown paper: "I can't hate…I have no blame."
Give it up for love.
It took a lifetime — three lifetimes — to create the single moment when Micah, Ricky, and Taliesin stepped forward on a Portland train. In trying to stop a man hurling hate speech at two young girls, one wearing a hijab, Micah, Ricky, and Taliesin acted out of love and concern for strangers. Micah was critically injured. Ricky and Taliesin were murdered.
There's no top 10 tips on how to do this. It's not learned from 140 characters. We're not an easy swipe away from all the answers. Yet we can hold tight to Asha's words like a mantra, repeating them over and over, trying to see the world and ourselves through their lens.
Give it up for love.
Hate is seductive because it demands so little of us. To embrace hate, we only have to reach out and grab one other word, grip it tight and refuse to let it go. Things are black, or they are white. You are with us, or you are against us. You belong here, in this town or this city or this state or this nation, or you don't.
Love is painful because it asks so much. To love is to let go of dogma and certainty and a sense of safety. To love is to reject hate and recognize the humanity of the one who espouses it. To love is to call out the unacceptable — our failure to provide mental health services, offender rehabilitation programs, and clear-eyed, equal justice to all of our country's inhabitants — and accept that our local elected officials are human beings, many trying to make their way towards solutions.
And is a warrior word, an indefatigable word, a bridge between two seemingly disparate positions.
After the attack, James Buchal, chair of the Multnomah County Republican Party here in Oregon, told the Guardian newspaper that it might be time to use paramilitary forces like Oath Keepers and the Three Percenters to protect Republicans at public events. As seen at a recent right-wing "Free Speech" rally in Portland, inviting these extremist, anti-government groups does nothing but escalate the tension in this, or any, city.
It's important to acknowledge the fear behind Buchal's words, and to also note that between Trump's election and the end of March, there's been a reported 1,863 hate crimes against non-whites, Muslims, immigrants, LGTBQ, and others. The Republican party is the ideological home of prominent members like Ana Navarro who publicly denounce racism, and it's entirely too accommodating of avowed racists within its ranks. We can see our politically partisan neighbors, colleagues, and friends first as neighbors, colleagues and friends, and we can oppose the Republican sitting in the White House with every fiber of our being.
Love can be terribly complex, and it can also be devastatingly simple.
Micah told friends he's overwhelmed by the outpouring of love and support he's received since the attack.
When asked if he was surprised by his father's actions, Rick's son Eric said: "Honestly, no. He would talk to every one of his kids. He would make sure that we were loved."
A witness to the Portland attack remembers Taliesin's last words as these: "Tell everyone on this train I love them."
Give it up for love.
We may not know exactly how to do it, and we will make mistakes in the attempt, but we owe it to these men and their families and the young girls they defended and their families to try.
This post originally appeared in the Portland Tribune.
This article was originally published on