These Magical Glitter Nudes Prove Clothes Are The Worst And Our Bodies Are Glorious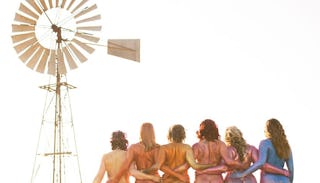 Image via Jill Kerswill
Today's advice: cover your glorious booty in glitter and take some pictures
I've gained 50 pounds since the birth of my second child. FIF-TY. And you know what? I still feel pretty fucking fantastic — most of the time. You know when I don't feel fantastic? When I'm trying on clothes. If I could just walk around naked all day, I'd be perfectly happy. Which is why I'm loving the images of these fabulous bodies covered in glitter.
Roseanna Mae is the brains behind the Positively Glittered project. "It started as a group of girls who came together over our love of lingerie and body positivity. We had no idea what would come of it," Mae tells Scary Mommy. "We wanted to get covered in glitter to show our natural beauty, and so we did."
Photographer Jill Kerswill jumped on board and lent her amazing eye for the photographs. So did photographer Shianne Watts.
"The inspiration was originally for the girls themselves to let go of their inhibitions, to do something to take control and celebrate their bodies, to stop worrying about what other people think," Kerswill tells Scary Mommy. " The whole thing is their idea, not mine, but I'm so happy to be involved."
Look at these amazing bodies. There is something about removing the clothes and covering up in glitter that really highlights just how gorgeous all shapes and sizes are.
"Day 12 on this account and we've already had a post removed," the caption reads. Is anyone surprised? Whenever women celebrate their own form for themselves — there's a problem. Oh it's totally fine if we prance around naked to sell cars or perfume or whatever — but god forbid we celebrate our bodies simply to celebrate them. That may make us feel too good, and the advertising world hasn't signed off on all these shapes — so tsk! tsk!
"Over time it has become more and more about our diversity as women and celebrating our differences. Each woman who joins us has her own reasons and her own story," Mae explains about the project. "There's not enough diversity shown in the media and it's important everyone is represented. Our next glitter event has over 20 girls of different shapes, sizes and ethnicities. They're everyday girls who want to celebrate their bodies."
I mean, who knew we all needed a naked glitter body-painting party in our lives? I didn't. But I want one now.
This article was originally published on