These Are The Post-Vaccination COVID Safety Measures We Still Need To Take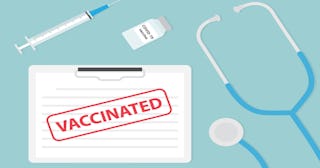 chrupka/Getty Images
Nearly a year after the World Health Organization declared COVID-19 a global pandemic, it feels as if we're crawling (stumbling, staggering, limping) toward the end of the pandemic. The credit goes almost exclusively to science and the scientists across the globe who turned their attention to outsmarting the novel coronavirus.
The United States has three vaccines approved for emergency use. The vaccines from Pfizer, Moderna, and most recently, Johnson & Johnson are stunningly good, with efficacy numbers that in the beginning of the pandemic seemed impossible.
As of this writing, twenty-eight percent of the country is at least partially vaccinated. We are vaccinating approximately three million people per day. The pace of this vaccination means that more and more folks are turning their thoughts to post-pandemic life, and many are often confused about what's allowed and what's safe. Scary Mommy got in touch with Dr. Vivek Cherian, MD, a Baltimore based Internal Medicine Physician, to examine what vaccinated folks can and should do post-vaccination.
Vaccinated Folks Can Begin To See Friends And Family–Carefully
For more than a year, most of us have been abiding by the guidelines set forth by public health officials. We've limited contact with other households, worn masks, and kept a distance of at least six feet from anyone not in our immediate family.
Vaccination allows folks to ease up on those restrictions somewhat. Under current CDC guidelines, vaccinated folks can spend time indoors with vaccinated folks from different households without masks or social distancing. Likewise, under the current CDC guidelines, people who are fully vaccinated can visit indoors with one other unvaccinated household without wearing masks or maintaining social distance, as long as the unvaccinated individuals are low risk for severe COVID, according to Dr. Cherian.
Car And Air Travel Is Lower Risk Post-Vaccination, But Continue To Be Careful
Dr. Cherian notes that the CDC has not yet updated guidelines regarding travel for vaccinated individuals. However, "once you are vaccinated, traveling by air or car is very low risk." That being said, all public health precautions—masking and maintaining social distance—should remain in place.
With respect to post-travel quarantine for vaccinated folks, the CDC has also not yet updated their guidance. The current guidelines recommend pre and post travel testing, as well as post travel self-quarantine. However, Dr. Cherian believes that the CDC will likely update their recommendations "in the next month or two as the number of fully vaccinated individuals rise."
The important takeaway for now is that vaccination does not exempt you from current CDC guidelines.
Indoor Dining May Have To Wait A Bit Longer
One of the things many of us are most eager to return to (after seeing friends and family again) is indoor dining. (Maybe just me—but I really miss having a night off from prepping, cooking, and cleaning up after dinner.) Unfortunately, even vaccinated folks should probably hold off on indoor dining.
Dr. Cherian notes that he would still avoid restaurants and poorly ventilated crowded indoor spaces because of "the new variants circulating and likely lower efficacy of some of the vaccines against them."
Fully Vaccinated Folks Can Skip Post Exposure Quarantine
Current CDC guidelines permit fully vaccinated folks to skip quarantine post exposure if it's been less than three months since an individual's last dose.
Evidence increasingly points to the fact that vaccinated folks are less likely to transmit the virus through asymptomatic infections, writes Dr. Cherian. However, we still do not know how long protection from the vaccines last and what effect the variants will have on immunity or transmission.
That being said, chances are the three month timeline for skipping post exposure quarantine will expand, predicts Dr. Cherian. The three month timeline was instituted because that is the length of time the vaccine trial data definitively supported, according to Dr. Cherian. He notes, however, that "people who have been vaccinated are very likely to have protection from the [original COVID-19 virus] for at least 6 months."
The above guideline is true for everyone except patients and residents living or working in nursing homes or other healthcare setting, "because the vaccine effectiveness in this population is still not completely clear and they carry a higher risk of severe disease and death."
Fully Vaccinated Folks Should Not Act Like The Pandemic Is Over
We are closer to the end of the pandemic than the beginning. That matters and that's a reason to celebrate. But it's crucial that we don't celebrate too early. Now is not the time to rip off masks and go running into the most crowded concert you can find. Vaccinated folks should continue to avoid large gatherings and continue to wear masks, writes Dr. Cherian.
New cases are plateauing around 50,000 cases per day, he notes. While a plateau is better than an incline, 50,000 cases a day is high. "When cases plateau at such a high number we are at a higher risk of getting another surge." Which we absolutely do not want.
Especially when we're nearing the end. Due to the speed at which the country is vaccinating, Dr. Cherian predicts that by May, the likelihood of another surge will significantly decrease, and the likelihood of returning to something resembling normal will increase.
His final advice: "We currently have a window of opportunity here and there is light at the end of the tunnel, we just have to hang on and not blow it. We will get there, but this is not the moment to relax because we haven't crossed the finish line yet!"
Information about COVID-19 is rapidly changing, and Scary Mommy is committed to providing the most recent data in our coverage. With news being updated so frequently, some of the information in this story may have changed after publication. For this reason, we are encouraging readers to use online resources from local public health departments, the Centers for Disease Control, and the World Health Organization to remain as informed as possible.
This article was originally published on