Food Delivery Services Offer No-Contact Delivery Amid Coronavirus Outbreak
by Leah Groth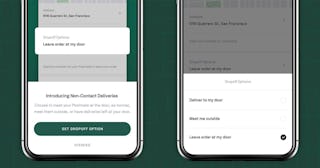 Postmates
Popular food delivery services Postmates and Instacart have both rolled out "no contact" options due to the coronavirus health crisis
There are a few key ways that health experts and organizations, including the CDC, are recommending people protect themselves from coronavirus, which the World Health Organization (WHO) has declared a "public health emergency." These include practicing regular hand washing and sanitizing, avoiding contact with those who are infected, and disinfecting potentially contaminated surfaces. However, while shopping at a grocery store, these seemingly simple recommendations can be pretty much impossible to follow. This is why so many people are opting to get their food and supplies via delivery services such as Postmates and Instacart. And, in order to make the food delivery process as germ-free as possible, both companies have rolled out non-contact delivery options.
On Friday, Postmates revealed in a blog post that they had added to the non-interaction option to their app. As part of it, customers can decide how they want to receive their deliveries.
"Customers can choose to meet their Postmate at the door, as they have before, meet curbside, or go non-contact and have deliveries left at the door," they explain in the blog.
"We know there are always people who, for health and other reasons, might prefer a non-contact delivery experience and we believe this will provide customers with that option."
To use this new feature, customers simply order as normal, and then they will be prompted to select their delivery preference before checking out.
Instacart also announced their non-contact delivery option last week. In a press release, they explained that they have been testing a new "Leave at My Door Delivery" feature with a group of customers across the U.S. and Canada for the last few months for a number of reasons. However, due to the recent health crisis it made sense to expand the offering nationwide.
"Over the last week, in particular, we observed a significant surge in consumer adoption and opt-in usage of the feature," they wrote. "Based on the increased demand for this new product feature, we've now made it available to all Instacart customers — bringing even more flexibility and optionality to their grocery delivery experience."
Opting into the "Leave at My Door Delivery" is easy. The option will pop up as part of delivery options at checkout, where customers can also provide more specific delivery instructions like a gate code or apartment number. "A real-time photo will alert customers when their groceries are at their doorstep," they added.
As of Monday, March 9, more than 108,000 people around the world have been infected with the latest strain of coronavirus, with more than 3,800 lives lost. The WHO has estimated that the fatality rate falls around 3.4 percent. However, children appear to be immune to it.
This article was originally published on