It Can Happen Anywhere: My Daughter's Scary Encounter
by Christine Burke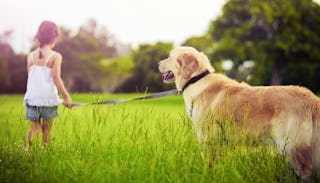 Martin Valigursky / iStock
We did everything "right," and yet, it still happened.
We moved to a neighborhood with thoughtful neighbors and wide, safe streets.
We enrolled our kids in a school district known not only for its exemplary teachers but also for its low violence and drug statistics.
Our kids know how to dial 9-1-1 and they know how to call a neighbor for help if we aren't home.
Stranger Danger. Scream, kick, and yell for help if someone grabs you. If you're lost, find a mom — she'll help you. All of these tenets were drilled into our kids' heads from an early age.
Like I said, we did everything right. We did what the experts said to do to keep our kids safe, but all of that couldn't protect our daughter from being approached by a potential predator while she was on a walk with our dog in our seemingly safe, tree-lined neighborhood. And, while we came to learn that stranger abductions make up a small percentage of child abductions, the threat does exist and what happened to us was a wake-up call for our family.
On a recent summer morning, I was, as usual, distracted by the details of our summer chaos. In between juggling work assignments, I was in the midst of orchestrating camp drop-offs, playdates, and my need to squeeze in a much-needed exercise class. My 11-year-old daughter had slept in, immune to my scheduling chaos, and was annoyed that I wanted her to bring a book and accompany me to the gym.
"Can't I just stay here?" she asked. "The dog needs a walk anyway. Pleeeease?" Because I was harried and behind schedule, her request seemed like the path of least resistance, so I relented. We reviewed where I'd be and how to reach my cell phone. As I hurriedly pulled away from our driveway with our son in the front seat, I caught an image of her skipping down the road, our dog trotting next to her in the summer sun.
I'll only be gone an hour. She'll be fine. My neighbors are home.
But she wasn't fine.
While she was on her walk, a simple half-mile loop at the end of our street that we've walked hundreds of times, a strange man slowly drove by and came to a stop. He rolled down his window and started asking her questions. He asked about our dog ("What's her name?" "What kind of dog is she?" "How old is she?") and probed for personal details about our daughter ("What's your name?" "How old are you?").
My daughter, afraid of appearing rude, answered his questions even though warning bells were going off in her head. He continued to talk to her, almost as if he was trying to stall her, and she grew uncomfortable and scared. She didn't know this man, had never seen him in our neighborhood, and had the good sense not to get near his car. Thankfully, she decided to run home, and he decided to drive away. Somehow, by the grace of God, she made it home safely.
No thanks to me, of course.
I was only gone for an hour. But in that hour, our lives could have been changed forever that day because I was too comfortable in my surroundings. I had let my guard down, and it was almost disastrous.
After speaking with our local police station and filing a report with an officer, I learned some valuable lessons.
1. Children should always have a cell phone if they are away from their parents or family members.
If my daughter would have had a phone with her that morning, she could have called 9-1-1 immediately. According to the officer that we spoke with, even the action of dialing the phone would have been enough to scare the potential predator away.
2. Adults never need help from kids.
My daughter told me that she knew something was very wrong because "Daddy never stops to talk with little girls he doesn't know." Teach your kids that adults they don't know should never need directions, help with a task, or information they can get from another adult. Tell your children that if an adult they don't know is asking for help, warning bells should go off in their heads.
3. If a stranger approaches by car, stay out of arm's reach.
It only takes seconds to grab a child and pull him or her through an open the driver's side window or into the backseat of a car. Staying out of arm's reach lessens the predator's ability to grab your child and drive away. Tell your child that if he or she can touch the car that has approached them, they are too close and take a step backward.
4. Being rude could save their lives.
Our daughter stopped to talk to her potential predator because she feared being rude to an adult. We have since role played and helped her find a loud voice to yell "Leave me alone!" and we have reiterated that she doesn't owe strangers a thing, not even a smile.
5. No matter how safe you think you are, you should never, ever let your guard down. EVER.
This has been the hardest lesson to swallow for my husband and me. We all want to believe the best in people, and for the most part, people in general are kind and helpful. But, that doesn't mean that we can let our guards down or be lax about safety when our kid are away from us. Be vigilant and be smart about your choices, even if you wind up looking like an overprotective, helicopter parent.
As terrifying as our experience has been, I'm glad it happened to us. Both our children have now seen what we've warned them about in action and they understand our fears. The incident has opened up a safety dialogue in our house and has allowed us to be more realistic and honest about where we can make improvements. Most of all, though, it has shown me that my little girl is badass and she's taught me a thing or two about being brave.
This article was originally published on