Pottery Barn's Releasing A 'Friends' Collection And Yes, There's An Apothecary Table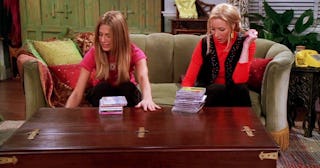 NBC
Pottery Barn is going to make our 90s dreams come true with a "Friends" collection
Today is a momentous occasion that no self-respecting 90s kid will soon forget and while your mind spins trying to imagine what wonders might be in store, allow us to drop two words that will bring it into focus: apothecary table.
That's right — you can now own your own authentic apothecary table, just like Phoebe and Rachel on that amazing episode of Friends, along with who even knows what other treasures because Pottery Barn is rolling out a Friends-themed collection this month.
Yup, we're excited too. If only to own a real-life prop from one of the best and funniest episodes from one of the best and funniest TV shows of all time. Fight us.
LOOK. AT. THIS.
Yep. You just feasted your eyes on a totally authentic replica of the famed apothecary table that Rachel bought for the apartment she was sharing with Phoebe, even though Phoebe hated Pottery Barn with the passion of one million blazing suns. It can be ours later this month when the retailer finally rolls out the collection, of which they're being incredibly tight-lipped. The retailer told PopSugar that the line "will include 14 products ranging in price from $13 to $1,099, and the line has everything from decorative accessories to furniture and textiles."
For the moment, that table is all we know for certain, along with those adorable Central Perk mugs and cozy "Welcome Friends" tasseled pillow on what we can only hope is sitting on a PIVOT brand couch.
No word on whether that couch would be unwieldy and barely able to fit through pretty much zero narrow NYC apartment stairwells.
In case you haven't been binge-watching the whole series on repeat while you still can before Netflix takes it away and need a quick refresher, here's the story behind the table.
Also, it's not just a furniture line that PB has in store — they're also offering fans the chance to win a free trip to LA for a $1,000 Pottery Barn shopping spree and to see the actual set from Central Park.
You don't even need to buy anything to enter, so what's stopping you? And if you happen to win, you can bring a friend — just make sure it's not Phoebe because we know how she feels about the ol' PB.
In these trying times, it's nice to have these fun bits of nostalgia to help our brains take a bit of a break from the daily news dumpster fire. In 1995, life wasn't perfect, but we had Friends — really great ones named Ross, Monica, Rachel, Joey, Chandler, and Phoebe. We'll take fun furniture to remind us of that fact all day long.