Pottery Barn's 'Friends' Collection Is Here And Yes, There's An Apothecary Table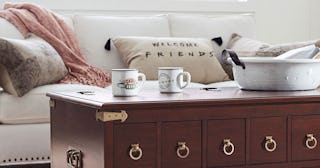 Pottery Barn
Pottery Barn's limited-edition Friends-inspired home decor collection is here.
Pottery Barn just dropped their Friends collection in honor of the show's 25th anniversary, and we want to buy everything. It's a big month for Friends fans — not only can you tour all the Friends' "apartments" at a pop-up in New York City but you can also own a "Joey Doesn't Share Food" mug. Pottery Barn teased the collab earlier this month and it has all sorts of mugs, throw pillows, artwork, and even the apothecary table. Yes, really — the very same apothecary table Rachel actually bought from Pottery Barn in Season 6.
The apothecary table will set you back $1,099 but no self-respecting Friends fan can pass this up. Can you even imagine what it'll be like when strangers walk into your home? "Is that? Wait, is that the apothecary table from Friends???"
Yes, FROM DAYS OF YORE.
Pottery Barn says the chest was "recreated down to the last details, like antique-inspired hardware and hidden storage."
The mugs are all $14.50 each. There's one with the classic Friends logo, another with a picture of a lobster that says "You're My Lobster" (shoutout Phoebe!), a Central Perk mug, and one that says "Joey Doesn't Share Food" and then an illustration of his favorite food: sandwiches.
There's a collection of throw pillows, ranging in price from $29.50 to $49.50, which would look great artfully displayed on your couch or bed.
The Friends doormat is totally affordable ($19.50) and really sets the tone for all guests before they enter your house.
This Central Perk travel mug ($24.50) is super cute too and literally looks like you picked up coffee at the iconic and fictional NYC institution on your way to work.
The rest of the collection includes tea towels and three different canvas art prints.
To be quite honest, if you decked your entire home out with every item from this 14-piece collection, you're halfway to having an eclectic, shabby-chic apartment like Rachel and Monica. All that's missing are the purple walls.
Pottery Barn is also hosting a sweepstakes appropriately titled: "The one with the free trip to LA." You can enter to win a $1000 Pottery Barn shopping spree and a trip to Los Angeles to visit the Central Perk set at Warner Bros Studios.
The contest and the Friends collection are only available for a limited time, so get that "I'll Be There For You" canvas print before they're all gone. We're certain Friends fans will appreciate this collection, even if Phoebe "hates Pottery Barn" and all "mass produced stuff."
You can shop the entire "Friends 25th Anniversary" collection at Pottery Barn.
This article was originally published on