Pottery Barn's Harry Potter Halloween Costumes Are Magically Cute
by Christina Marfice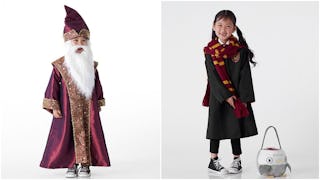 Images via Pottery Barn Kids
Your littlest witches and wizards will look their best in Pottery Barn Kids' Harry Potter Halloween costumes
It's been 20 years since the first Harry Potter book hit shelves, and kids' imaginations are still the better for it. There's still a dedicated following for Harry, Hermione, Ron and the rest of the Hogwarts gang all these years later, and if your little ones are looking for the perfect Harry Potter Halloween costumes to show their love for the series, they're certainly not alone.
But your search is officially over, because Pottery Barn Kids has crushed this. There are a lot of great costumes out there, but Pottery Barn has put together sets for both Gryffindor and Slytherin costumes that include all the pieces, so no last-minute hunting to find a scarf to go with the robe you already bought. Plus, they look just like what the characters wear in the movies, so even the pickiest of Potterheads will be satisfied with these looks.
Check out all the details in the Gryffindor costume, which comes with the robe, a maroon-and-gold scarf, and adorable clip-on tie.
The same goes for the Slytherin set, which includes all the same pieces, except with a green-and-silver scarf, of course.
Try not to die from the cuteness of the Professor Dumbledore costume, complete with robes, hat, and a huge, fluffy, clip-on beard, because any little Dumbledore needs facial hair cascading down to his (or her!) toes.
And of course, these costumes are a perfect fit for any kid, regardless of gender. The sizes are unisex and span from 3T all the way up to kids ages 9-10.
The only piece you may need to buy separately? If your young Potterhead is dead set on going as Harry this year, his glasses are available to purchase in addition to a Gryffindor costume. Or a Slytherin one — if you want to rewrite the story to feature another house, no one will stop you. Halloween is all about fantasy, anyway.
There's definitely no shortage of Harry Potter Halloween costumes out there. But not everywhere has nailed the details quite like these. Make it a magical Halloween to remember by dressing your kid in a costume fit for a king or queen of the Yule Ball. Happy Halloween!