Pottery Barn's Hello Kitty Collection Is Next-Level Adorable
by Thea Glassman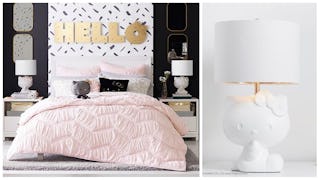 Image via PBteen
Pottery Barn has a new Hello Kitty collection and goodbye all my money
Are you ready to have your weekend brightened up immediately? Pottery Barn released a new Hello Kitty collection and it's ridiculously adorable. Like, drop all the dollar bills in your wallet adorable. Prepare yourself for household items that your kids will love, but could look equally great in your own room (because, whatever, cute cats know no age).
Let's start with this oversized beanbag chair because it looks extremely soft, comfy, and has a giant bow on it. This is perfect for lounging on the laziest of days but also looking very cute in the process. Every single beanbag chair should be shaped like a cat with gold whiskers. No exceptions.
Speaking of lounging, sleepovers just got a whole lot less complicated with this very snuggly quilted sleeping bag. Nobody will complain about having to sleep on the floor (I mean, probably not nobody, but a few kids less).
Homework time just got so much more fun with this Hello Kitty lapdesk. There's a nice hard surface to prop up notebooks or devices, and a soft underbelly so the work can be done from the coziness of bed.
While we're talking about cozy beds, let's turn our attention to the most delightful of table lamps. It's all-white, sleek, and could probably go in your bedroom with limited judgement.
The same goes for this "Hello" wall decor, which is so gold, so sharp, and has a little bow hanging on the letter "O." *Sigh.*
Back-to-school shopping is going to be marginally more fun if you start with this Hello Kitty backpack. It's covered in a metallic gold pattern, features pale pink accents, and comes complete with drawings of the iconic cat. There's also a matching bow-shaped pencil case you can buy along with it. And a matching lunch box. Will this be overkill? Probably.
While we're being extra, there's also a Hello Kitty pencil holder that's a little too cute not to buy.
Now go let this little stylish cat brighten up your house. We could all use a few more gold bows in our life.