Your Summer Won't Be Complete Without This Huge Rainbow Sprinkler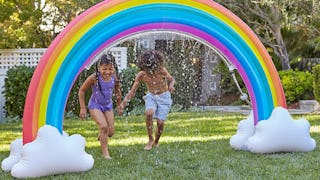 Image via Pottery Barn Kids
Whimsical sprinklers are seriously on trend in 2018, and you need them all
There are certain things you just have to have ready for summer, and now that the first day of Spring is officially behind us, the countdown is on. You need a cute swimsuit. You need sunscreen. You need a Costco-sized jug of margarita mix. And you need all of the magical, whimsical sprinklers that are apparently very on trend in 2018.
The latest in lawn ornaments that may make the neighbors think you're crazy but will cool you down and make your life way more fun is this giant rainbow sprinkler from Pottery Barn. This whimsical thing rains cooling drops of hose water down on the kids (or adults, let's be real) as they run under its magical arch.
You may initially balk at the $149 price tag, but rest assured this functional lawn decoration is worth every magical penny. Plus it'll look great next to the unicorn and dinosaur sprinklers you definitely already bought. Whose backyard looks like a fairytale dreamland? Yours, that's who.
We never thought we'd see the day when the hottest trend of summer was giant, inflatable, whimsical sprinklers, but we're not complaining. And judging just by the frequency of new magical sprinklers becoming widely available, these are primed to absolutely take over Instagram this summer.
You don't want to be left out, sipping your margarita under your decidedly uncool $1 metal sprinkler head from Home Depot, do you? Nobody does. Hell, get the rainbow for the kids, the unicorn for yourself, and the dinosaur for your husband. You get a fancy sprinkler, you get a fancy sprinkler! Everyone gets a fancy sprinkler!
Look, this winter has been seemingly never-ending. Summer is finally right around the corner, and brighter and warmer days are within view. Celebrate. Treat yo'self. Sprinkle in style.