This Realistic Toilet Actually Flushes And It's Potty-Training Gold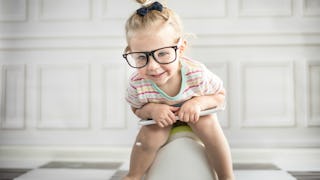 deucee_ / Getty
This adorable potty looks just like the real thing and your tot will feel like a big kid using it. Not only do we think this tiny toilet is freaking genius, but Chrissy Teigen swears by it, too. In fact, she took the potty with her everywhere she went when Luna was potty training, including on tour with John Legend! Luckily, it weighs just under three pounds.
Little kids are obsessed with feeling all grown up, which makes this realistic potty the perfect tool for potty training. The toilet "tank" offers up storage space for wipes and toilet paper and it also comes with a clip-on splash guard for boys. Use the flush feature as a reward for after your little one goes!
If you're convinced you need this toilet to make it out of the potty training phase alive, snatch one from Target!
More: These 50+ Baby And Parenting Products Are Freaking Genius
This article was originally published on