Book-Scented Perfume Exists, Because Sometimes We CAN Have Nice Things
by Cassandra Stone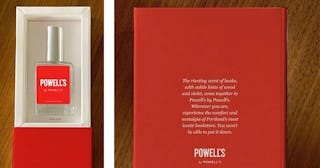 Powell's Books/Instagram
Because every bookworm knows the instant euphoria of inhaling inside a bookstore — thanks, Powell's
There is absolutely nothing better than the instant jolt of happiness one feels when one steps inside a beloved bookstore and inhales. Nothing. On. Earth. You know the smell — ink, paper, coffee, and leather. Just a burst of euphoria the minute you walk in and fill up your nose holes with that beloved scent. Good news — you can now wear that scent. Thanks to indie bookstore Powell's Books, that addictive aroma is now a perfume.
Powell's Books is a large chain of independent bookstores based in Portland, Oregon, and in the most Portland-y (and genius) move ever, they've bottled up our favorite fragrance to sell just in time for the holidays!
"Powell's" by… well, Powell's (LOL), is a limited-edition, unisex fragrance that will be available in a 1-ounce bottle packaged in a faux book for $24.99.
According to a news release Wednesday, Powell's surveyed its customers about what they missed most about the City of Books while it was closed temporarily due to COVID-19. It seems like customers missed sniffing the books as much as browsing and reading them.
"Smell like a million books!" Powell's wrote on Instagram. "Our limited-edition unisex fragrance, Powell's by Powell's, captures the scent of books with subtle hints of wood and violet. Available for preorder now on Powells.com and in-stores on November 27."
Almost as good as owning the fragrance itself, Powell's description of it is something to behold: "Like the crimson rhododendrons in Rebecca, the heady fragrance of old paper creates an atmosphere ripe with mood and possibility," the website reads. "Invoking a labyrinth of books; secret libraries; ancient scrolls; and cognac swilled by philosopher-kings, Powell's by Powell's delivers the wearer to a place of wonder, discovery, and magic heretofore only known in literature."
And, if you're wondering how they suggest wearing it, a simple spritz is not the answer. The recommendation here gives off major Mr. Bean in Love Actually vibes ("It's so much more than a bag!" he says as he scoops heaps of cinnamon into Alan Rickman's cheating-on-Emma-Thompson infidelity necklace gift bag.)
"This scent contains the lives of countless heroes and heroines," Powell's writes. "Apply to the pulse points when seeking sensory succor or a brush with immortality."
You can buy the perfume online now as a pre-order, and in-stores beginning November 27. And if books are your true love, join the Scary Mommy Book Club where you can read books along with fellow moms and bonus — you don't have to wear pants.
This article was originally published on