I'm Pressing The 'Easy' Button For Easter This Year, And Ordering Pre-Filled Eggs Now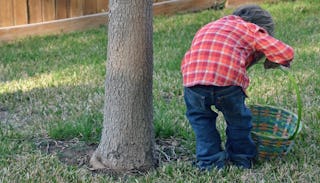 MarcionMedia / Pixabay
My kids really love Easter. Thanks to YouTube, they are totally on the surprise egg bandwagon, so their anticipation of Easter and the traditional egg hunt has increased exponentially. They are counting the days.
Last year, I went to the party store and stocked up on cheap trinkets and spent the night before Easter filling them up for the neighborhood egg hunt. The kids went wild, but it was a tedious process and required several stops to pull off successfully (and affordably).
So you can imagine my excitement when I came across pre-filled eggs on Amazon, that were not filled with candy, but instead with cheap trinket toys — 48 eggs for $25.95.
Now, you are not getting high-quality toys here. Definitely not Montessori-approved. But if your kids are like mine, they enjoy the "opening ceremony" more than anything, and they will carry their trinkets around in a basket for a week and marvel over their treasures, so I can justify the expense. (It does mean I purchase less sugary treats.)
A holiday indulgence to be sure, but it's what they are into at the moment. If your kids are into the surprise egg trend, they will love this too. And you just order and wait, and you're ready to go. Easy. I love easy.
(Although, I typically shout threats of throwing them all away immediately when I'm fish-hooking something out of the baby's mouth, so be mindful of that.)
This post contains affiliate links, which means we receive a small portion of the sale if you make a purchase using this link.