Artist Turns Precious Moments Figurines Into Scary Sculptures
by Julie Scagell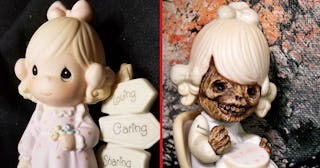 Keith Busher/Instagram
You've never seen a Precious Moments figurine quite like this before
If you love and collect Precious Moments figurines for their childlike innocence and heartfelt gift potential, you may wanna sit down for this one. There's an artist who decided to take these angelic figures lining the shelves of grandmas' houses everywhere and turn them into the stuff of nightmares only the likes of Rob Zombie and Mike Myers would truly appreciate.
Creator and Canadian artist Keith Busher decided he'd try his hand at sculpting, and what better muse to test out his utterly terrifying and kickass imagination on than Precious Moments dolls. The results are "Precious Mutations," but you really have to see them to believe just how awesome they are.
"I was inspired by the upcycling work of David Irvine from the gnarled branch," Busher tells Scary Mommy. "I wanted an inexpensive craft project that was environmentally friendly. I didn't want to copy him exactly, plus I can't paint… so I tried my hand at sculpting." He said he posted his creations online and they were so well received, he just kept going.
Most of Busher's creations have been reworking small versions of Precious Moments figurines but he says this is just the tip of the witch's broom for him. "I have a couple LARGE projects I want to do," he said. "I have built big installation pieces in the past. One is lovecraft inspired. I've been itching to do it for months now."
If this one's not titled, "Goodnight, Sleep Tight. Don't Let The Bed Bugs Bite," it's a definite missed opportunity.
Busher is a creator's creator, sharing his work on YouTube so others can benefit from learning the craft and picking up his tips and tricks so that you, too, can scare the shit out of unsuspecting house guests who turn a light on in the middle of the night trying to find the bathroom.
If you're of the "the scarier the better" motto for Halloween, these would make the ideal addition to your decor. Plus, if he can create something that makes Jason Momoa smile, well, we're definitely buyin' what he's selling.
I'm not certain Busher's creations would have the same impact from, say, a baby shower or baptism gift perspective as your run-of-the-mill Precious Moments baby, "Love Is On The Way" stork carrying a baby figurine. It would, however, set you apart in the gift-giving department. Plus, who wouldn't want one of these staring at your bambino as they drift off to sleep? "Sweet dreams, my little angel."
Kidding aside, Busher's talent is obvious and his "Precious Mutations" would be the talk of your next Halloween party or any party in general. You can find all the places to buy his merchandise on his website.