My BFF Is Having A Baby, And I Can't. I'm Thrilled For Her, And Sad For Myself.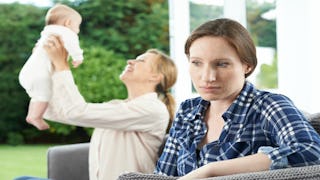 Highwaystarz-Photography / iStock
I could tell when I looked at her. I hadn't seen my BFF Alice in about a month, and in that time, something had changed. Maybe she was working out? Her hips looked broader. She seemed less skinny, less pallid. Had she taken up weightlifting, I wondered, or started running? But she told me she couldn't take my boys outside to play because of the pollen.
"Hey, can you watch the kids next week?" I asked. "We have this doctor's thing on Tuesday."
"I don't know," she said. She got a grin on her face, a big, sloppy, stupid grin. "It depends on the ultrasound."
And I knew.
I flew at her with a giant hug. We'd always joked about her and her husband, also our dear friend, having children. But they swore, up and down, that they were a cat-only household. She went so far as to tell me that she had my children, so she didn't need any of her own. And she was afraid (like so many of us) that she would fuck up any future kids. So no babies, thanks. Never. And here she stood in my kitchen, the stereotypical pregnancy glow and all. I was thrilled for her.
And as I hugged her and got all tears-of-joy-y, I also seethed. I would shiv a higher-up member of the Trump administration for another biological child. When my youngest son, now 3, was born after a difficult and miserable pregnancy, I held him in my arms and pleaded to my husband that he wouldn't be the last one. I had always pictured a big family — six or seven kids — and my last pregnancy had scared me.
For good reason — I had hyperemesis and severe gestational diabetes. My mental health had deteriorated with each pregnancy, and about a year after my baby was born, I had to enter an outpatient treatment center for my depression and anxiety (I'd say, "gut-wrenching terror and endless crying spells," but you know, medical jargon).
I am now downing a vast pharmacopeia barely compatible with breastfeeding once a day, let alone procreating. I'd have to stop many of my meds — the really important ones — if I got knocked up. My psychiatrist advised against it, and as she pointed out, my mental health seemed to take a hit hormonally every time I had a baby. She didn't want me to risk worse. When I told her we were adopting, she solemnly said she thought it was the best decision.
So there you have it. Uterus closed for business. No more pregnancy. No more first ultrasounds. No more births. No more chance to make it without an epidural. No more first perfect moment of a baby plopped on your stomach, all squinchy eyes and rage and howls. No more first nursing. In fact, no more breastfeeding at all, most likely — my 3-year-old will be the last child I nurse. I hold him at night, our only nursing session, and cuddle him close. I try not to think about how he'll be weaned by this time, or that one. It breaks my heart too hard.
And here is Alice, burbling about how she isn't sure how far along she is yet. She says she's so glad she has us. She has attachment parenting leanings after her own upbringing and needs someone to offer her support as a nervous first-time mom. "I need you to teach me how to wrap and how to breastfeed!" she says. And I am glad to be an Auntie, glad to feel the glow of being needed. I can hold this heart-bursting joy inside myself at the same time that I can hold my deep well of sadness and anger. I told my psychiatrist this. She nodded. "The human heart is an amazing thing" was all that she could offer. In my joy, I promise Anne all of our baby gear, from the cloth diapers to the clothes to the co-sleeper and a baby carrier. And I mean it.
"Except you can't have the changing table," I say. "We'll need it for the foster/adopted baby at some point." We will, we will, I tell myself. This changing table is a touchstone for me, a promise. I'll empty it. I'll clean it off. But I will not move it. It assures me that, one day, a baby will come to this house. One day, a baby will be here.
And first, that baby will be Alice's. I secretly hope he's a boy, so he can wear all my boys' clothing that I've carefully tucked away. That will make me happy to see, and we'll have fun sitting down and sorting through and labeling it all. I will help her wrap him on her chest. I will help her husband wrap him. I will help her learn to nurse and buy her a Boppy pillow. I will crochet him tiny baby things. I will think of him as a nephew. I will love him like a nephew too. I am so excited for him, this unexpected gift, this miracle. They want support, and I will be there to give it. It will help distract me.
Maybe this baby can help heal some of my anger — the anger that demands why not me? The anger at my own body for making pregnancy so hard, the anger at my own mind for making pregnancy so impossible. Maybe this baby is the perfect timing. For Alice. For the universe. For me too.
This article was originally published on