9 Best Labor & Delivery Gowns You May Even Wear After You've Left The Hospital
We only recommend products we love and that we think you will, too. We may receive a portion of sales from products purchased from this article, which was written by our Commerce team.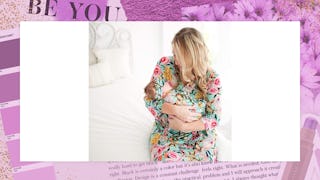 While you're actively pondering what to pack in your hospital bag for D-Day (you know, when you deliver your little cherub and mark the end of your sleep-inclusive lifestyle), we figured we'd drop a major truth bomb. Hospital maternity gowns are one of the best-kept secrets to feeling your best on delivery day... and for offering extra comfort during the post-partum period. But we're not talking about those stiff and scratchy maternity gowns you're provided at the hospital.
A labor and delivery gown that's pretty and functional is as essential as your toothbrush, if not more so. Why? Because a maternity ward nurse can always offer you a dollar-store-style toothbrush in a pinch, but a cozy robe that makes you feel like the she-ro you are? Nope! (And have you heard of 3-in-1 labor and delivery and nursing gowns? They're worth their weight in gold!) But it's all for the best, because these picks are way cuter than the butt-out gowns from the hospital, anyway! We rounded up our favorite mom-approved maternity robes and birthing gowns that are so multi-functional, you'll want to keep wearing them post-pregnancy.
Best Hospital & Delivery Gowns With Easy-Access Snaps
Frida fans, your favorite postpartum recovery brand has its own labor and delivery gown (naturally). If you've used Frida Mom or Frida Baby products before, you know that this company just gets it. Needless to say, their Labor and Delivery Gown has everything you need. More specifically, it features easy-snap access for breastfeeding and skin-to-skin bonding, soft, stretchy fabric to keep Mom comfy, and two front pockets that are somehow always necessary. Not included? Itchy tags, scratchy material, and flimsy back ties that lead to accidental moon-ings. This minimalist shift is so polished-looking, you could even wear it while greeting guests postpartum and no one would judge you. Reviewers aren't shy about praising this gown, but many note that the one-size-fits-all garment runs big. "I am IN LOVE with this postpartum," said one reviewer. It is definitely still large on me... BUT it's like wearing a silky soft blanket, and the front un-snaps and comes down but the shoulders stay up. I can breastfeed skin to skin and just cover up with my baby's blanket and both of us stay cozy warm. This thing is amazing."
If you're someone who loves getting the best of both worlds, then this 3-in-1 Kindred Bravely Labor and Delivery Gown is a must-have for your hospital go-bag. It may look like your run-of-the-mill hospital gown, but it won't scratch your skin like one. It has a soft fabric, full coverage, and was named a Mom's Choice & PTPA Award Winner — so, you know it holds up. It's sized based on your bump. Small through large fits baby bumps up to 45 inches, and XL-XXL are both great for baby bumps that are 46-51 inches.
Let's get real for a second. No one has ever felt attractive in those boxy gowns the hospital provides you. Not a single soul has ever said "ah yes, nothing sexier than a polyester box." And why can't we feel and look our best while on delivery day? You're running the show! This labor and delivery gown from GINKANA fits your body like your favorite nightdress. The soft cotton fabric hugs your curves and baby bump perfectly, while the shoulder snaps allow for easy access for nursing. And when your little bundle of joy has arrived and it's time to return home, this gown is perfect to have on-hand during post-pregnancy recovery.
Plain, pale blue gowns are just plain sad. Delivery day is your day, so why not look your best? These 100% designer-style hospital gowns come in multiple colors and floral patterns. Because frankly, floral makes everything better! "This gown was perfect for both labor and delivery. It was nice to be wearing something that made me feel more modest and dare I say, pretty, during the birth of my second child. Snaps made the epidural and breastfeeding easy," this second-time mama said. Who doesn't deserve a little luxury after bringing new life into the world?
Best Nightdress-Style Hospital Gowns
It's a bird, it's a plane! Nope, it's just one of the most versatile and cute hospital maternity gowns we've seen yet, because it doubles as a nursing frock and nightgown! You can whip your milk makers out in a jiffy, use it as a cover-up for trips to the nursery or NICU, or just pass right out in bed wearing it. If that's not Houdini-level magic, then we don't know what is. Besides the gorgeous shade of peacock blue, it's also incredibly soft and lightweight. It'll keep you cool in the summertime when all you want is a piña colada… but #MomDuties first. For moms who like a little extra coverage (re: nothing too skimpy), this gown hits at just the knee and has half-sleeves. Not sure what size to purchase? Snag one in your "normal" size and then size up for one that you can wear during that final trimester and post-delivery.
If you're planning to stay in the hospital for more than one night, like for an elective c-section, you're going to need backups of your best cute hospital maternity gown picks. This Maternity Breastfeeding Nightgown from iLoveSIA (set of three gowns) offers easy access, sleeveless styling in case your IV is left in a little longer (or you need a few extra injections), and size-forgiving stretchy fabric that's ideal for the first few days after giving birth through the next several sleepless weeks. Nursing moms will appreciate the easy-to-use and discrete nursing clips with one-handed access. "I really like the material because it's not too see-through. It's also very stretchy! I think the length is perfect too," said one customer.
We don't know about you but when we see anything advertised as 3-in-1, our first impulse is to #AddToCart. Honestly, this Labor/Delivery/Nursing gown from Baby Be Mine is no exception. We love versatility almost as much as we love getting the most bang for our buck. Though available in several uplifting floral patterns and polka dot prints, the black gown is great for everyday wear. It has an adjustable empire waist to ensure that you get the most seamless (and comfortable) fit possible. There are snaps in the back to reduce your risk of flashing anyone, as well as shoulder snaps on both sides to make medical examinations a wee bit less awkward. Can we get an AMEN for that? Baby Be Mine's mission is to provide comfort and coverage while making you feel prepared for your big day.
We've seen enough generic AF hospital gowns in our lifetime to know that you deserve better, mama. Despite the fact that you may feel like an elephant right now, trust us — you'll still want to feel pretty. This floral print hospital delivery gown will not only transport you to Hawaii, but it's comfortable for lounging. The semi-V-neck is a nice feminine touch so you can still show off your favorite cannoli charm necklace when receiving visitors at home to meet your BB. Ready for a bit of magic? The V-neck actually serves a purpose—it unsnaps down to the chest, making examinations and nursing a cinch. All of Bella Mama's maternity garments are designed by moms for moms, so no detail goes unnoticed. The reviews speak for themselves. Says this modest mama, "I had read recommendations that you should take your own hospital gown to change into after delivery and I'm so glad I did. This gown was thick and I like that it was a darker color. The snaps in the back and along the shoulders were great and felt very secure. I felt comfortable wearing it in front of people and did not feel exposed as I would have in the gown provided by the hospital."
Best Maternity Robe With Matching Swaddle
S'cute! Is this one of the cutest hospital maternity gowns you've ever seen, or what? We love that it comes in a broad range of sizes, fun colors, and prints, and has photo-worthy matching swaddles and gear just for newborns that you can buy separately. If you're planning to share birth announcements to your social media profiles from the hospital, you won't be sorry you picked this. Not only does it have pockets (a crucial detail when you like to sneak in snacks between nursing sessions), but there's an extra security tie to keep any potential wardrobe fiascos at bay. Phew. "Fits perfectly and the fabric is incredibly soft!" raved one Amazon reviewer.
Remember how I said the Posh Peanut matching swaddle can be bought separately? Well, here it is. If you already put the matching maternity robe in your shopping cart, you're going to need this sugary-sweet matching baby swaddle and headband set. Can we take a minute to consider how cute you'll both be for the rest of time? We know you'll want your little peanut to be cute as hell when he or she enters the world and is bombarded with a million photos from mama. The viscose (from bamboo) swaddles are buttery soft, odor-resistant, and hypoallergenic. Bonus: They can also be used as a stroller blanket or nursing cover.
In the market for stylish loungewear that you can rock beyond the delivery room? Be sure to check back for more mom-approved fashion essentials!
This article was originally published on