These First Names That Come From Last Names Are All The Naming Inspo You Need
Bellamy? Garrett? So cool.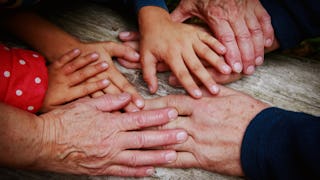 Nadezdha1906/Getty
A surname is something passed down from generation to generation. But if you're not happy with your last name – or you like it so much you'd like your baby to have two – there are plenty of last names that make distinguished first names, too!
Naming a baby can be scary. We can help! Check out our baby name database here.
Adley
Alden
Alexander
Allen
Anderson
Angelo
Archer
Arden
Ashley
Ashton
Austin
Avery
Bailey
Baldwin
Banks
Barrett
Beckett
Beckham
Bellamy
Benedict
Bennett
Benson
Bentley
Berkeley
Blair
Blake
Blakely
Boone
Bowen
Bradley
Brady
Branson
Brennan
Briggs
Brinkley
Bronson
Brooks
Bryant
Campbell
Carson
Carter
Case
Cedric
Chandler
Chase
Clark
Clayton
Clinton
Cobain
Cohen
Collins
Colson
Connor
Conrad
Cooper
Cruz
Cullen
Curtis
Darwin
Davis
Dawson
Douglas
Drake
Dugan
Edison
Elliott
Elliott-unisex
Emerson
Emerson-unisex
Emery-unisex
Emmett
Ensley
Everett
Fallon
Finley-unisex
Finnegan
Fisher
Fletcher
Flynn
Ford
Fox
Franklin
Frost
Garrett
Gates
Glen
Grady
Graham
Granger
Grant
Grayson
Greer
Gregory
Grey
Griffin
Hadley
Haley
Hamilton
Harlan
Harley
Harlow
Harper
Harper
Harrison
Hawthorn
Hayes
Hendrix
Henley
Holden
Houston
Hudson
Hunter
Hunter-unisex
Ibrahim
Irving
Jackson
Jameson
Jefferson
Jensen
Keaton
Keegan
Kendrick
Kennedy
Kiefer
Kingston
Lachlan
Landry
Langston
Lawrence
Lawson
Leighton
Lennon
Lennon-unisex
Lennox-unisex
Lincoln
Logan
Lorenzo
Luciano
Madden
Maddox
Madison
Marley
Marley-unisex
Marshall
Martin
Mason
Maxwell
McCartney
Mckenna
Mckenzie
Mckinley
Mercer
Miller
Mitchell
Mohammed
Monroe
Montgomery
Morgan
Nash
Nelson
Nixon
Nolan
Oakley-unisex
Oliver
Olivier
Orson
Osbourne
Parker
Parker-unisex
Paxton
Penn
Peyton
Peyton-unisex
Pierce
Piper
Porter
Preston
Quinn
Reagan
Reece
Reed
Remington
Remington-unisex
Rhodes
Ridley
Riley
Riley-unisex
Roland
Rowan
Russell
Ryan
Samson
Santino
Sawyer
Schuyler
Scott
Shepherd
Sloan
Solomon
Spencer
Stanford
Sterling
Stone
Sullivan
Sutton
Tanner
Taylor
Taylor-unisex
Thatcher
Thomas
Tucker
Tyson
Valentino
Vincent
Wade
Wagner
Walker
Wallace
Warren
Washington
Wellesley
Wilder
Wilson
Winslow
Winston
Wolf
Wyatt
This article was originally published on