24 Names That Mean Joy For Your Little Ray Of Sunshine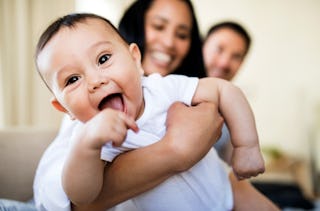 Halfpoint Images/Getty Images
Learning that you are going to have a baby, whether it's your first or fifth, is always fraught with emotion. But the moment you realize you'll soon welcome a newborn into your life is a happy one. So it only tracks that you'd want to choose a baby name that means joy or happiness to honor all of those feelings and (hopefully) instill a sense of positivity in your kid way before they ever even see the world.
That might sound silly — that a name can somehow manifest a personality trait or feeling in a human — but when you do your research, you'll find that across cultures and since the beginning of time, people have been naming their kids using the very same words they use to talk about joy and happiness.
You have a lot to do if you're looking up baby names on the internet, so don't worry; we did all of that research for you. Below, there's a list of baby names that mean joy from all over the world to try on for size for your kid.