This Pregnant Dog May Have Better Maternity Photos Than You
by Jerriann Sullivan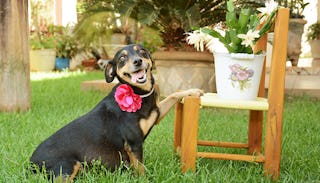 Pregnant dog, Lilica, posed for photoshoot day before giving birth to five puppies
Warning: You might feel intense jealousy after seeing these fantastic photos from a pregnant dog's maternity shoot.
Lilica lives in Brazil and recently had the chance to show off her baby bump in a maternity shoot with photographer Ana Paula Grillo. Sporting a rhinestone necklace with a fuschia flower, Lilica looked blissful as she posed for various pictures in lush green grass. Despite being very pregnant, she had her puppies the next day; the proud mama-to-be was clearly comfortable in front of the camera.
"It was amazing," Grillo told Bored Panda. "It felt like she understood everything, and made sensational poses. It was like she was smiling."
Grillo's shot several cute kids and various animals, but this was her first maternity shoot with a pet. She saw some online with humans and thought her neighbor's pregnant four-year-old pinscher mix would be a fun model. She said Lilica was a pleasure to photograph. "I saw her big belly and I thought, this is it," she told Mashable.
Lilica was such a good model the photographer said she only shot for 20 minutes and did minimal editing with color correction. The beauty captured in the photos was all thanks to the pregnant pup. "She smiled in a way that was just so nice," Grillo said.
The photos went viral quickly with several media outlets in Brazil and America sharing Lilica's maternity photos. People are leaving comments about how overjoyed they are for the new family and asking for follow-up shots with her five puppies. It is unclear if Grillo got any before the four boys and one girl were adopted by family and friends of Lilica's owner.
One thing is certain, though. Furbabies everywhere should be ready for their humans to feel inspired after seeing Lilica's gorgeous, professional pics.