Pregnant Women Are Winning Twitter With Their Halloween Costume Pics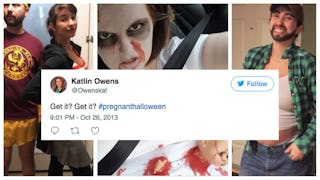 Image via Twitter
Pregnancy has its advantages
Let's be honest, if you are pregnant enough to be showing on Halloween, odds are you'd rather be feet up on the couch shoving bite-sized candy in your mouth rather than dressing up and leaving your house for a holiday party (not that it's not fun watching everyone else drink spiked apple cider). But these moms-to-be are showing everyone if you're going out — go all out.
Of course anyone would understand if a pregnant woman wasn't in the mood to celebrate. It's hard enough to find regular clothes that fit, finding a Halloween costume can feel almost impossible. Instead of cursing the ghosts and goblins of Halloween past, these trending costumes on Twitter will have you embracing your growing bump in no time.
If this one didn't win some sort of Halloween contest, there is no hope for the rest of us. P.S. — It's Krang from Teenage Mutant Ninja Turtles:
And Juno. Genius.
There's no time like Halloween to capture some hilarious pics — any hey, it almost guarantees a win at any party you attend. Plus, there is so much one can do with an oversized belly.
Seriously, a bun in the oven? Applause for being able to pull this one off — plus who doesn't need a chef around in case of an emergency?
If you are still finding yourself uninspired, what with the sheer exhaustion of growing another human being inside you, here are some more creative costumes that have you covered, especially if you really love to be on trend:
Everyone knew there would be a pregnant Kylie Jenner:
Have your partner go as a piece of toast and this one is a lay-up:
Fine, this video isn't "new" new but Miley never goes out of style:
CUTE.
Your kids will be getting all the spotlight for the next — at least — ten Halloweens to come, so take advantage now and be the center of attention. And why not creep people out in the process:
An oldies but a goodie:
Embrace the "beer" gut:
It's evident these pregnant women know how to do it up for Halloween. One can only imagine if their creativity is this strong before their babies are born how amazing their kid's costumes will be one day.
This article was originally published on