Pregnant Meteorologist Publicly Blasts Viewers For Body-Shaming Her
by Cassandra Stone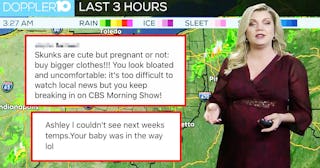 Ashlee Baracy/Facebook and WBNS
This meteorologist is not here for viewers who are jerks about her pregnant body
For some reason, people can't stop, won't stop criticizing the way pregnant people look. As if our bodies are just public collateral, simply because we're gestating another human — it's the weirdest, most inappropriate thing. Especially if you're a public figure, like this meteorologist from Ohio. Luckily, her trolls don't stand a chance against her — she's calling them out, one by one, for being jerks about her body.
Ashlee Baracy is a meteorologist for WBNS-10TV in Ohio and is expecting her first child next month. When she announced her pregnancy earlier this year, she was immediately hit with criticism from local viewers, she tells the Columbus Dispatch.
"The sad part is the second I found out I was pregnant, I knew I would have to deal with criticism of my body by viewers," Baracy told the newspaper. "I've been around the business long enough, and I've seen colleagues go through that."
Sure enough, she got hit with emails from people telling her she looks "bloated and uncomfortable" and warnings about her wardrobe not being able to "survive" her entire pregnancy. One guy, "Clay," even wrote in to tell her that she was "really putting on the weight" and attempted to concern-troll her cardiovascular health.
Even dumb messages like these are utterly pointless and yet, complete strangers (*cough* MEN) cannot seem to refrain from letting Baracy know their thoughts about how her pregnancy is affecting them.
And let's not leave out this person, who is decidedly braver than the troops for directly telling a pregnant woman to buy bigger clothes while comparing her to a skunk:
While all of these messages are unfortunate and beyond inappropriate in every way, it's awesome that Baracy isn't keeping them to herself. Because if you're unhinged enough to say things like this, to a public figure (or anyone), you deserve to be called out in a public fashion. But that's the thing about assholes, especially sexist ones — they rarely consider the consequences of their actions.
Baracy wants to make sure she uses this whole experience to advocate for others, particularly vulnerable people who may overhear or be influenced by body-shaming. "Sadly, I am just one of many women who have been the target of body-shaming, so I hope sharing my story gets adults to look in the mirror and realize that self-image issues and the bullying epidemic in our youth starts with the example we are setting," she tells Scary Mommy. "If a child hears their parent refer to someone on TV as 'fat,' what might the same child think of themselves when they look in the mirror or how will they perceive others and treat them in the future?"
As a pregnant woman who is also due next month with my second child, it still astounds me how forward complete strangers can be about my body. The only opinion I care about is my doctor's, and my weight gain and blood pressure are just fine and dandy, thank you very much. You absolutely do not have to speak to a pregnant woman for any reason; it's not mandatory. If you can't simply smile and say congratulations (if you are A THOUSAND percent sure that person is pregnant, anyway), then shut your pie hole.
On her Instagram page, Baracy shared her thoughts on all the criticism she's received and how it has impacted her pregnancy and career, and she even takes a moment to thank all the viewers who have been nothing but supportive.
"I truly appreciate every #10TV viewer who has supported me and encouraged me throughout my pregnancy and let's hope by shedding light on body-shaming that fewer people will deal with critics like this in the future, pregnant or not," she concludes. "Every time I have called out a hater, the overwhelming outpour of encouragement has been touching and incredibly inspiring. Thank you, Central Ohio.‬ Most importantly, thank you for embracing and caring about my growing family."