US Border Patrol Forces 8 Months Pregnant Migrant Woman With Contractions To Wait In Mexico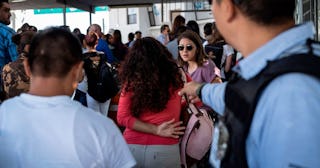 PAUL RATJE/AFP/Getty Images
A pregnant woman with contractions was sent to a temporary detention center in Mexico when she tried to seek asylum in the US
An eight months pregnant woman experiencing contractions traveled from El Salvador to the United States to seek asylum and when she arrived, she was told to wait in Mexico — a country she doesn't live in — until her court date in November. The woman, who has asked to remain anonymous, is one of 38,000 people being forced to wait in Mexico to await immigration court hearings. Detaining migrants in Mexico is part of Donald Trump's new Migrant Protection Protocols or "Remain In Mexico" plan, which was created to deter people from seeking asylum. Trump got the Mexican government to agree to participate by threatening exorbitant tariffs back in June.
The problem with this program is that much like the family separations and the detention centers on our side of the border, these Migrant Protection Protocols are quickly becoming a humanitarian crisis.
ABC News reports that when the unnamed pregnant woman got to the border, she was given medication to stop the contractions and then sent — along with her three-year-old daughter — to a "makeshift tent camp" in Matamoros, Mexico. Much like the detention centers in the US, these tents don't have access to regular meals and clean water but have the added issue that many families are being attacked and kidnapped while they wait in these border cities.
The pregnant woman's attorney Jodi Goodwin says "she's concerned about having the baby in the street or having to have the baby in a shelter."
Even worse still, the U.S. Department of Homeland Security claimed that "vulnerable populations" would not be sent to Mexico, but apparently, a pregnant woman currently experiencing contractions is not "vulnerable" enough for them.
US Customs and Border Protection claimed that they wouldn't deem a pregnant woman a member of a "vulnerable population" if they couldn't see that she was pregnant. However, in this case, it was CBP who sent the woman to the hospital to stop her contractions. "There's no way that CBP could suggest that her pregnancy wasn't known," her lawyer stated.
Lina Villa, a Mexico-based health official for Doctors Without Borders, also told ABC News that Mexico does provide a limited amount of health care for anyone regardless of nationality, though she realizes that most migrants who are being detained don't have the resources to seek out said healthcare.
Many people will read this story and say that this woman shouldn't have tried to immigrate to the US in the first place, but perhaps we can remember what people may be fleeing when they seek asylum and have some empathy. No matter how you slice it, forcing a pregnant woman to potentially give birth in tented holding spaces in a border town with no access to health care is wrong.