Before And After Pics Celebrate Pregnant Pit Bull And Her Adorable Puppies
by Valerie Williams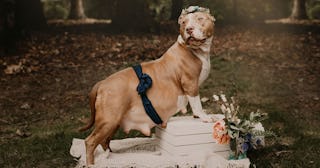 Courtesy of Lauren Casteen Sykes
Pregnant pit bull gets her very own maternity photoshoot followed by snaps with her precious puppies
A new mom has so much to think about — there's the nursery, the baby shower, all the things needed to welcome a new baby into the world, and of course, a stunning maternity photoshoot followed by newborn pictures to commemorate the little one's arrival. Doggie moms are no different in that respect, and this sweet pit bull and her precious litter got to star in their very own maternity and infant photos. Get ready for your entire heart to explode.
RELATED: The Most Gorgeous (And Most Importantly, Comfortable) Maternity Photoshoot Dresses
This is Mama Pickles and you guys, she is the most beautiful momma we have possibly ever seen. She's currently staying at Pits & Giggles Rescue in Charlotte, North Carolina with her eight (yes, eight!) teeny puppies. But before those puppies, there was just this gorgeous pregnant Pickles. LOOK AT HER.
According to Insider, Pickles was only too pumped to be the center of attention for her special photos. Photographer Lauren Casteen Sykes of Enchanted Hills Photography says, "It took a lot of hands and tons of treats to help her focus on channeling that inner goddess!"
But once she got going, it was on. "She was amazing and you could really see her soaking up and loving the attention. She's a typical pitty in the sense that she will do anything for pets and praise!" she shares. Casteen Sykes says the pup was "the queen of the power pose" and yet, "the clumsiest, goofiest pit bull I've met in a long time." We could not possibly love her more.
And once those itty bitty babies arrived, all girls, Mama Pickles got to show off her beautiful family.
"These dogs are just so incredibly special," Casteen Sykes said. "They've gone through such a difficult journey. Having an opportunity to share that with people and help them find their homes is the most amazing feeling."
Look how proud she is. Our whole hearts.
Anyone else thinking about taking a road trip to adopt one of these angels? Not so fast — they won't be ready for their new families for several more weeks. Pits & Giggles tells Scary Mommy that these babies are only three weeks and still nursing. Casteen Sykes says the rescue specializes in taking in pregnant dogs along with "constantly educating the community about responsible spay and neuter practices," she explains. "This rescue pours so much in to each of these families," she adds. "And makes absolutely certain everyone is spayed or neutered."
"I can't say enough about this awesome organization," Casteen Sykes said. "I'm so excited to continue capturing these incredible mama dogs and sharing them so they find their way home!"
This article was originally published on