Pregnant Woman Asked 'Where's The Baby?' In Subway Seat Showdown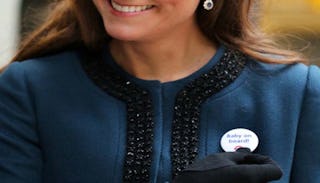 Britain's Catherine, Duchess of Cambridge, wears a Transport For London (TFL) badge that reads "baby on board", given to her during a visit to Baker Street tube station with Queen Elizabeth II and Prince Philip, Duke of Edinburgh, in London on March 20, 2013 to mark 150th anniversary of the London underground. The 86-year-old queen attended her first public engagement for more than a week after she had to cancel a number of events last week as she was still recovering from a bout of gastroenteritis which saw her admitted to hospital on March 3 for the first time in ten years. AFP PHOTO/POOL/CHRIS RADBURN (Photo credit should read Chris Radburn/AFP/Getty Images)
A pregnant woman was headed for one of the priority seats on the London Underground, when a man stopped her and said, "Where is the baby?" There's one thing you should know about this story before we proceed: pregnant women in London can request a little button online that says "Baby on Board" to alert their fellow passengers that they are presently creating an entire human, so move your ass, thank you very much. Kate Middleton made the badge famous during her pregnancy with Prince George.
Raayan Zafar, 32, said she told ITV News she was "shocked" and "really embarrassed" when she asked a man to give up his seat during the morning commute and a male observer in his 40's chimed in with the question. A) Mind your business, dude. B) Do you have a death wish? Zafar told the news station her pregnancy is in the early stages, but she's already been taking medication for severe morning sickness.
This is the interaction that ensued, according to Zafar:
The man sitting there was a gentleman and gave me his seat, but then a lady who was already standing in front of him tried to take the seat, so I made her notice me by saying 'excuse me'.
That lady realised I was going for the seat, but the person sitting beside it started arguing with me, saying the lady wanted to sit there and asking: 'Why are you taking the seat?'
I showed him my 'baby on board' badge and he then rudely asked me: 'Where is the baby?'
I was shocked – is that the way to speak to a pregnant lady? Do I have to carry my maternity notes with me all the time?
Rude jerks abound, but this whole "maternity note" thing is pretty amazing. Having gone through two pregnancies while commuting on the NYC subway, this little gem would've come in handy. Not sure how many people would yield to it, but it's worth a try. Why stop there? There are so many ways pregnant women could be assisted in the real world by simple reminders to the general public. How about a 'Look-Away' Badge? We could throw it onto the dashboard of our cars to alert people that there should be minimal interaction and zero judgment. Yes, I'm in a Krispy Kreme drive-thru line in my pajamas. I'm pregnant. Look away.
The badge initiative launched in 2005, and they're available on the Transport for London website. The site explains, "Travelling on the Tube can be tricky for mums-to-be, but having a Baby on Board badge makes it easier by letting other passengers know that you have a very good reason to need a seat." The description should probably include, "Unless you sit next to a confrontational jerk."
This article was originally published on