ICE Officials Are Shackling Pregnant Women And Denying Care If They Miscarry
by Jerriann Sullivan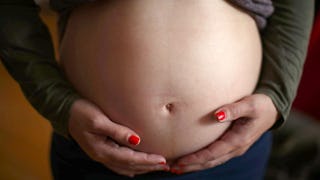 Image via Yui Mok/PA Images via Getty Images
Pregnant women miscarried and didn't receive medical attention
Pregnant women miscarried and were denied proper medical attention while being held in immigration detention, according to a new report from Buzzfeed News. Pregnant women were denied or didn't receive medical care in at least six different immigration detention centers across the country with several sources confirming the report.
Women who have miscarried, women who are currently pregnant and detained, medical workers, and legal aid workers detailed the horrific experiences seen in the immigration detention centers since Donald Trump took office. From being denied medical care to being shackled around the stomach, an unknown number of women are being physically and psychologically abused, the report shows. "Pregnant women have highly specialized needs and this is a high-risk group. I think it's inhumane to detain them," explained Virginia Sushila Schwerin, a midwife and nurse at Circle of Health International's clinic near the border.
One 23-year-old woman, who is identified as E, described what happened when she began "bleeding profusely and begging for help from staff at the facility." She told Buzzfeed News: "An official arrived and they said it was not a hospital and they weren't doctors. They wouldn't look after me. I realized I was losing my son. It was his life that I was bleeding out. I was staining everything." E came to the United States from El Salvador to raise her son in a safer home, she told Buzzfeed News. She was four months pregnant when she miscarried and never received any medical attention. "I spent about eight days just lying down. I couldn't eat, I couldn't do anything. I started crying and crying and crying," she shared. "My soul aches that there are many pregnant women coming who could lose their babies like I did and that they will do nothing to help them."
When Obama was in office ICE was ordered "not to detain pregnant women except in extreme circumstances or in relatively rare cases of expedited deportation," the report said. But in December, Trump's administration changed that and started detaining pregnant women who aren't in their third trimester yet. The new rule states that ICE is in charge of "ensuring pregnant detainees receive appropriate medical care including effectuating transfers to facilities that are able to provide appropriate medical treatment." But BuzzFeed News' report shows that ICE isn't following the new rule and that pregnant women are denied medical care — even in emergency situations — and are being shackled around their stomachs when moved from one facility to another.
Medical care professionals who work in the immigration detention facilities said they also witnessed ICE physically and psychologically abusing pregnant women. The examples of abuse documented in the report vary but include a woman who was eight months pregnant falling directly onto her stomach but being denied hospital access, women who are in the middle of a miscarriage being denied any medical treatment, a woman being forced to wear clothes that were so small they left welts on her body, and one woman being forced to undergo several x-rays, which doctors, the Food and Drug Administration and even the x-ray machine all say not to do.
One of the more common occurrences seen was the shackling of pregnant women around their bellies, hands, and legs. It's also very dangerous. "If a woman is jostled while wearing shackles around her belly, it can affect the child, as can any fall onto the belly, which is more likely to happen if the woman is chained," said Dr. Anjani Kolahi, an obstetrics physician with Physicians for Reproductive Health. "This is not the US standard of care in any way," Kolahi said of the abuse documented in the report. "This is absolutely medical negligence. Overall [detaining pregnant women] is a cruel, inhumane practice. It's creating all sorts of unnecessary risk for the women."
The Trump administration doesn't have real-time data on the number of pregnant women being detained. But ICE told Buzzfeed News that between Dec. 14, 2017 and April 7, 2018, a total of 590 pregnant women were held. Rubia Mabel Morales Alfaro, 28, was in ICE detention from around December of last year to March of this year. She was denied medical care when she first started bleeding and ultimately lost the baby. "It's important that you know the trauma that they inflict on you … It's not a place for anybody much less for pregnant women," Morales shared. "It's something too traumatic. It's a punishment that I will never forget."