This Affordable Plus Size Clothing Line Is Fashionable AF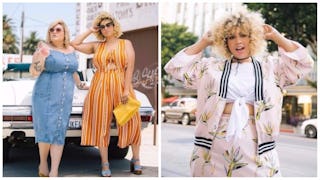 Image via Instagram
Women shouldn't have to sacrifice fashion because of their size
Even with the current body-positive movement helping everyone embrace their bodies no matter the size, the plus size clothing market leaves a lot to be desired. Sometimes it feels as though the aim of plus size clothing is to cover up, or "flatter" the consumer by concealing her body. It can make fashion frustrating, to be sure. Which is why fashion designers Nicolette Mason and Gabi Gregg are seeking to shake up the plus size clothing industry with their new line, Premme.
The Premme line, which launched this week, offers consumers the chance to embrace fashion instead of having to sacrifice it because of their size. In an interview with Refinery 29, both Mason and Gregg said their frustration with the status quo of plus size fashion is what led them to create the line.
"We've always loved fashion," Gregg told Refinery. "We've been fashion girls for a very long time, and we're frustrated with the fact that designers aren't making our size. The brands that are making our size are [making products that are] diluted and watered down. We didn't want that for our brand. We didn't want to compromise style."
And with prices ranging from $30-$89, can we get an amen on not breaking the bank to shop for clothes that fit us? Post-baby (yes, 21 months in she's still a "baby" and IDGAF) I now fall somewhere in between "regular" sizes and "plus" sizes. This has lead to many a Target dressing room sob sesh, because I either feel like a stuffed sausage or someone's matronly aunt. A fashion line like Premme–which offers everything from size 12-6x–is a breath of fresh air for anyone who feels similar frustrations.
Considering the average-sized woman in the United States is now a size 16, it's kind of baffling that retailers still don't gear their clothing options toward that reality. Mason and Gregg feel that inclusive fashion benefits everyone – consumers and retailers alike.
"We're feminists, and what we really believe is is making clothing accessible to as many people as we can," Mason told Refinery 29. "So we were so excited to be able to produce a bigger size range than most brands."
When shopping online specifically, clothing is often featured on the traditionally thin model, even if the sizing expands into plus sizes. So too often, many women don't have a realistic picture of what the clothes will look like on their bodies. To be perfectly blunt, it sucks. Premme seeks to change all of that in an inclusive and fabulous way.
The Premme line is as revolutionary as the two women behind it. We can't wait to see what future collections and fashionable options they come up with as they grow.