He Told His Preschool Crush He Was Going To Marry Her, 20 Years Later He Asked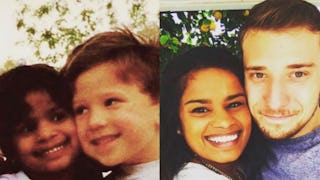 Images via Instagram/The Way We Met/Laura Scheel and Matt Grodsky
From Ring Pops to wedding rings
Plenty of us have a childhood sweetheart. But while we might tell our parents that we're going to marry our kiddie crush, it doesn't actually happen — unless you're Laura Scheel and Matt Grodsky.
The preschool besties turned newlyweds shattered frozen hearts everywhere this week when Grodsky shared the details of their longtime romance with the Instagram account The Way We Met.
"Laura and I met in preschool,"Grodsky writes. "One of my very first memories is of being 3 years old and standing up in front of my preschool class, declaring that I would marry her someday."
The feeling was mutual. "I thought he was a goofy kid. We did almost everything together when we were younger. We were inseparable from the start," Scheel tells Scary Mommy. "We loved to watch movies together and Matt would like to repeat the lines back to me — I had often told him to 'Shhh' because I wanted to watch the movie. He was my best friend and I was so happy that we had each other."
In his post, Grodsky explains that the two lost touch in elementary school. "For the next seven years, our family's annual Christmas cards were the only way we ever saw each other's faces," he recalls. They reconnected in high school and quickly discovered their special connection was still there. "Within two weeks, we decided to be boyfriend and girlfriend. We continued to date through out all of high school, even though we went to different schools." Nicholas Sparks, eat your heart out.
Having your preschool crush become your high school sweetheart in and of itself is swoon-worthy enough to be a movie plot. But Scheel's and Grodsky's romance was just getting started. In spite of the fact that they attended colleges in two different states, the two maintained a long distance relationship throughout.
In 2015 Grodsky proposed at the place where it all began. He surprised Scheel by suggesting a picnic at their old preschool to celebrate finishing their junior year of college. "The whole car ride to the preschool she kept asking me why I seemed anxious. I kept checking my pocket when she wasn't looking to make sure the ring was still there," he told the Huffington Post. "I dropped down on one knee while my brother came in with the phone, snapping photos. Laura was shocked. I gave her my pitch on why I wanted her to marry me and she said yes ― whew!"
The couple says their parents have been supportive of their relationship from the start. "We owe them a big thanks for letting us hang out so much as little kids!" they told Scary Mommy.
Now that they're not in preschool, Grodsky is in marketing and Scheel works with foster families at the non-profit organization Helping Hands. But even though they've become adults they still share some of the same hobbies they had years ago. "As kids we watched Disney movies and swam. As adults we still watch a ton of Disney movies and are now teaching our brand new puppy, Kirby, how to swim," the couple explains. "We like to have a date night every once in a while with our busy schedules."
It's easy to laugh when our young kids come home declaring they're in love with one of their classmates. But we shouldn't discount our children's crushes as puppy love. Who knows, that could be their future spouse they're gushing over from the booster seat.