Preschoolers Decide To Visit Grandma -- By Driving Mom's Car To Her House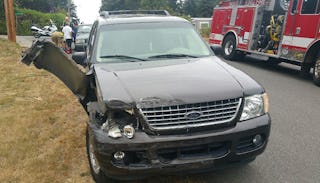 Image via Facebook
A pair of preschoolers wanted grandma and decided to take matters into their own hands
Your kids probably prefer their grandparents over you. It's not personal — it's grandma and grandpa. They have candy, cookies and unlimited cartoons. It's simply not a contest. Considering how sweet things can be at Nana and Papa's pad, it's no surprise that a couple of preschoolers went to great lengths in an attempt to get to the promised land.
They tried driving there by themselves.
That's right — according to an NBC affiliate, the teeny driver and passenger were only five and three years old when they set off on their ill-fated journey. They reportedly started up the engine in their mom's SUV, put it in drive and drove it through a nearby intersection crashing into another car.
Annemarie Warren, who lives nearby, told KATU News, "It sounded like an explosion went off — something, we really don't know. So I ran out and I saw it. I knew it was our neighbor's car, but I did not know she wasn't in the car. Only the two little ones."
Fortunately, she discovered the children uninjured and the other driver had only suffered cuts and bruises. "I held the kids both in their hands and I said, 'where's your mom?' They said, 'sleeping. I want to go to my grandma's house.' I was waiting for the mother to come out, too, you know?"
Oh my God, nightmare. How many of us have accidentally fallen asleep on the couch in front of a Daniel Tiger marathon and woke to find the kids had wandered off? Luckily for me, I always found my little escapees scrounging through the refrigerator or emptying a clothing drawer. They just as easily could have slipped out the front door and taken my Honda for a spin, so I won't be among those judging this poor mom for falling asleep on the job.
As of now, authorities haven't said whether they'll be filing charges against the parents, but hopefully not. As outrageous as this seems, it really could happen to anyone — preschoolers are diabolical!
Fred Axberg, who also heard the crash, says, "My reaction was, thankfully they're okay. For sure they had an angel."
And that's really all anyone should be saying.
This article was originally published on