Trans Teen Introduces Biden To Mark Return Of Pride Events At White House
by Erica Gerald Mason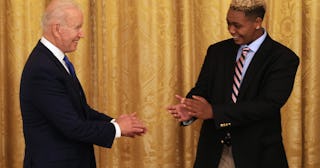 Chip Somodevilla/Getty Images
"Pride is back at the White House," President Biden said during the ceremony
Happy Pride month, y'all. President Biden hosted an LGBTQ+ Pride celebration at the White House, commemorating the return of Pride events at the White House as Trump largely ignored the important month for three out of his four terms. Sixteen-year-old Ashton Mota introduced the president at the event on Friday, June 25, 2021, as the administration kicked off the return of Pride commemorations.
"My name is Ashton Mota, I use he/him pronouns, and I'm honored to be here with you all today," Mota said. "I am a 16-year-old Black, Afro-Latino high school student from Lowell, Massachusetts. I also happen to be transgender."
"President Biden has always stood up for his family, and I know he will stand up for my family, too," Mota continued. "Mr. President, thank you for having our back."
Mota, who is a former Human Rights Campaign youth ambassador, told those gathered that he informed his mom about his identity on his 12th birthday.
"I was scared because I didn't know how she would react, but she told me she loved me. That I was her child and that she would support me so I could be the person I was meant to be," he said.
Mota used his platform to describe how the trans community faces discrimination and wakes up to "headline after headline about bill after bill that prevent us from joining a sports team, receiving healthcare, or even just using the bathroom.
Following his introduction by Mota, President Biden commented that the teenager "seemed awfully comfortable up here," nodding toward his podium.
"Your story, your leadership and your mom is just an inspiration," Biden said of Mota.
Biden made a point to point out the difference between his and the former Trump administration, stating, "Pride is back at the White House."
Calling transgender kids "some of the bravest people in the world," Biden added that "it takes courage to be true to your authentic self, and to face discrimination…it takes a toll."
Transportation Secretary Pete Buttigieg, the first openly gay Cabinet secretary, also delivered remarks at Friday's event, telling Mota "a whole lot of us have your back, starting at the top."
Buttigieg also thanked his husband, Chasten, "for all that he has done to help people see themselves in a new light of belonging and possibility."
Buttigieg recalled growing up and learning that "being LGBTQ was something that could cost you your job, or cost you your life."
"I became a military officer under 'Don't Ask, Don't Tell,' ran for office in Indiana, time and again facing that choice between service and love, between duty and self. My whole self," he said. "And yet today, here I am…here we are, standing in the East Room in the company of the president of the United States and the first lady, wishing each other happy Pride."
You can watch Buttigieg and Moto's full remarks here.