Biden's Executive Order Ending Federal Prison Contracts Is Great, But It's Not Enough
by Nikkya Hargrove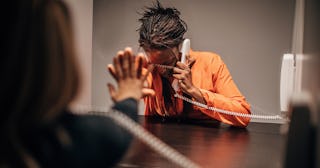 South_agency/Getty Images
America has long profited from the enslavement and suffering of human beings, particularly Black and Brown people. This week, President Biden signed an executive order erasing the Department of Justice's role in participating in the big business of for-profit, private prisons. The executive order would cut funding in the form of unrenewed federal contracts to private prisons.
According to The Sentencing Project, in 2017, over 121,000 — or 8.2% of the overall prison population — were housed in private prisons, including federal and state prisons. President Biden's executive order is a step in the right direction, helping to redeem ourselves as a nation built on dehumanizing and devaluing the lives of those who are accused of harming society in some way.
This executive order is only a small piece of the pie when it comes to gaining equity in the United States for people of color, who all could use understanding and compassion. According to the NAACP, 56% of the incarcerated population is comprised of Black and Latinx prisoners, with Black inmates making up 34% of that statistic, and Blacks are incarcerated at over five times the rate of white people.
President Biden's executive orders call upon the powers that be to use common sense and to understand racial injustice within the prison system, and the administration is taking swift action to rectify and move towards healing our nation. I applaud this: it's about time the leader of the United States took steps to address the deep inequities and racial injustices that dominate America's prison system.
With over 2 million people incarcerated nationwide, cutting funding to private prisons is only a drop in the bucket of a much bigger social justice issue. Some of us have always been highly aware of what wearing our skin color out into the world could mean for our safety and our lives. NBA superstar LeBron James said it best in an excerpt from Isabel Wilkerson's book, "Caste": "No matter how great you become in life, no matter how wealthy you become, how people worship you, or what you do, if you are an African American man or African American woman, you will always be that."
Black people, thanks to what we know about systemic racism, were never allowed to be more than a Black person, and the prison system is a way to keep us in our place. It continues to strip us of basic rights like voting, education, housing and employment, opportunities which are granted to others without question, yet held just out of reach for so many Black people.
Biden's executive order is a step in the right direction, but there is much more work to be done. What about the hundreds of babies and children who remain separated from their parents because of former President Trump's cruel immigration policies? I am looking forward to Biden's immediate action on this, as well as action on Immigration Detention Centers in general, as these were left out of this most current executive order.
I, an almost forty-something-year-old woman, visited my mother in prison when I was a teenager. In the visiting rooms, I saw many other Black women and families, Latinx women and their families, and minorities sprinkled about the visiting room like dots of splattered black pepper in the bottom of a bowl.
There is no executive order available to President Biden that can stop systemic racism, and it will not be something that happens overnight. We are a country and a people reckoning with the ghosts of our past. With divisive statements like "the China virus," and detention centers holding undocumented immigrants and separating parents and kids being called '"beautifully run" facilities — the problem of equity runs deeper than the ink which bleeds from any president's pen. We have a long, long way to go, America.
I grew up getting to know my mother and hear her hearty laughter in the visiting rooms of jails and prisons. I know what it is like to be separated from my parents, and to feel sad, confused, and scared. I know we can do better, and I have hope that the Biden-Harris Administration will set a foundation upon which future presidents can build upon to reunite families, rehabilitate the broken, and mend the fractures of our communities. This executive order is a start, but so much more needs to be done.
This article was originally published on